Back from a trip organised by the Canadian Tourist Board Irene is charmed by Nova Scotia and Prince Edward Island:
From the moment you step onto PEI you feel life is celebrated at a different pace here. Rolling green hills, red cliffs and small-town charm promise camera worthy pictures around every corner and great interactions with the locals. With food playing an important role on the Island and along the NS coast a fishing trip is a must, bbqing your catch on the boat. Try lobster and crab to your heart's content,  play golf, ride a horse along golden  dunes and enjoy picnics under light houses, visit the white quaint churches dotting the landscape – soon you will understand why this island was the perfect setting for the much loved story of a girl named Anne (of Green Gables).
To connect back to the mainland take Air Canada's  small plane service between Charlottetown and Halifax or travel to Victoria by the Sea,  onto the Confederation Bridge and cross for a short drive into New Brunswick or, like me, drive straight to Nova Scotia.  Halifax's  historic port is the hub of this fast growing city. The very modern university and current healthy economy guarantee good revenue and building work is going on everywhere.   Check out eclectic shops, artisan studios, museums and galleries. Walk the waterfront, experience the vibrant music scene, savour award-winning cuisine, and hoist a pint in a place with more pubs and clubs per capita than almost anywhere else in Canada.
But not far from the city the wide-open spaces invite to scenic drives. Shaped by the highest tides in the world, the Bay of Fundy is home to over 15 species of whales. The Annapolis Valley combines lush farms and award-winning vineyards with Mi'kmaq legends and heritage sites celebrating the earliest European settlements in North America. Experience highland hiking trails, the Bras d'Or Lake inland sea, world-class golf, and the world-renown Cabot Trail on Cape Breton Highlands National Park. And visit Nova Scotia's longest sand beach at Eastern Shore, offering year-round surfing, sea kayaking in the island-strewn waters, and the chance for birders to cross Great Blue Herons, Atlantic Puffins and Sandpipers off their list.  At South Shore navigate through weathered fishing villages, the UNESCO World Heritage site of Old Town Lunenburg, and past 40 lighthouses – including the famous beacon at Peggy's Cove. Discover tales of pirate treasure at Oak Island, and visit Kejimkujik National Park and come face to history with Mi'kmaq petroglyphs.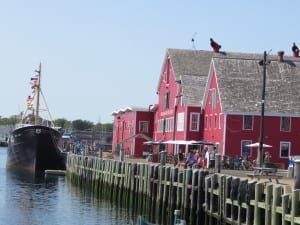 So if you enjoy friendly most hospitable people, coastal landscapes, easy driving and unique food and drink this destination should soon be on your travel wish list.