My name is Barb and I have worked for Nomadic Travel for six years – here I am going to relay my adventures in North West Australia to you in a few different parts as there is so much information here for you to enjoy! Below is a map which shows some of the areas we visited in the Kimberleys.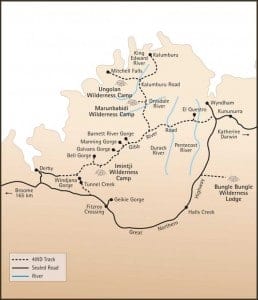 Unlike the last two trips that were posted here on the Nomadic Travel blog this was not an educational – this was my husbands and my holiday which we spent a long time planning to ensure we saw the best of this spectacular region of Australia, a country we truly love and have now visited 3 times.
We flew from the UK via Singapore using Qantas – the first leg was superb on an A380 so very modern and comfortable – the second leg up to Darwin wasn't so good as it was with Jet Star who are the budget arm of Qantas. We arrived in Darwin at 0400 and headed for a little motel in the same area as the Britz camper van depot. We were at Britz by midday to pick up our trusty stead – a 4WD Camper.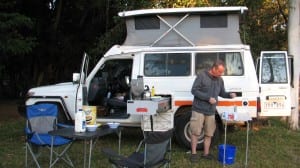 We very impressed with the vehicle – it was based on a Toyota Landcruiser and there were lots of them around – the locals called them "Troopies" Definitely built for the job and the rough roads we were about to discover on our travels.
From Darwin we headed down the Stuart Highway to the one and only camp site we had booked – Mount Bundy Station at Adelaide River. Having picked up supplies at a Coles supermarket on the way at Palmerston we now tried to get it all packed in some sort of order in the camper – not easy as there wasn't a lot of room in it. Mount Bundy Station was fabulous – it was still a working cattle station where you could ride horses, take a station tour, fish in the river and watch the birds which were many, colourful, noisy and early risers! They woke us and as we peeked out of our camper we were greeted with a wonderful view of still smouldering camp fires and a beautiful sunrise.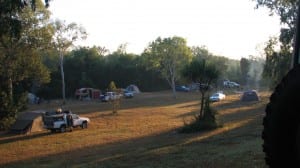 We were soon packed up and ready to go as we had a very long day ahead of us. Our aim was to see if we could get to Kununurra in West Australia a distance of 720km. All on tarmac roads so we could share the driving. we headed down the Stuart Highway and took a right at Katherine onto the Victoria Highway. We stopped for lunch along the way – there are hundreds of these stop-over points all over Australia. There have toilets, BBQ pits and gazebo style tables and benches. We stopped at a one of these for our first lunch out on the road. The scenery along here is wild and fairly barren – there are lots of cattle roaming which is a bit of a traffic hazard.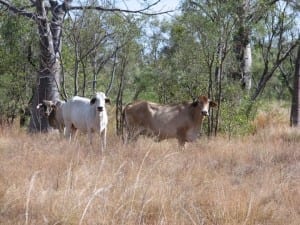 They aren't cattle as we would know them but more of a Brahman variety. so with lots of cattle come lots of road train cattle transporters – these were the bane of my life – I hated having to overtake them, some were 4 trailers or 170ft long! You needed a very long stretch of road with no dips in it to do this – scary stuff!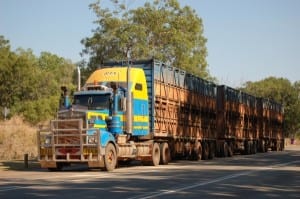 We drove through an area where there were bush fires burning up across a hill with all the birds trying to catch the small mammals that were trying to escape the fires – poor things!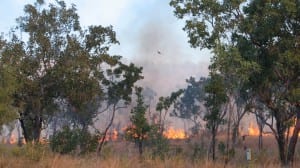 The scenerey around Victoria river was very good and we stopped at a road house for an ice cream! We got to the WA border at around 1730 but had to them put our clocks back an hour so we were able to make it to Kununurra. We loved this nice little town and we stayed on The Kimberlyland Camp Site which was down beside the lake with stunning views of the sleeping Buddha Rock across the lake. It was huge site and packed but we had a good, large pitch.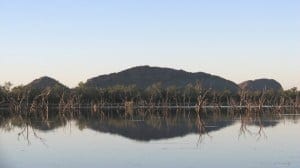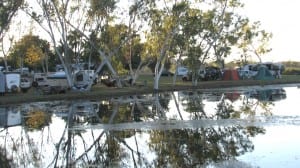 Had a very good nights sleep so we were up at 6 am the next morning having had a walk around the lake shore at 0630. Brilliant bird life!
We knew our next target was the Gibb River Road and several of the sites off it so we could potentially be away from supermarkets and fresh food for up to 9 days – so we hit the big supermarket and the butchers with a sort of menu plan and a shopping list.
We were very excited to be setting off out of Kununurra and then getting to the Gibb River Road turn off – we now had at least 660km of dirt roads but we knew it would be a lot more if we got to see all of the wonderful things there were to see along the route.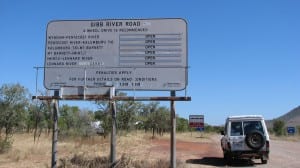 Some of you may have heard of "corrugations" – these are ridges which form in the loose dirt along all of the non tarmaced roads on Australia. They look like they have a tin roof effect although the dips can be 6-8 inches deep in places. It shakes everything in your  vehicle to bits and the trick is to drive at around 60-70km/hour over the top of them – now you know why I only drove on the tarmac roads. As well as the corrugations you get big boulders, sharp flint stones – these are the ones that cause the punctures and what the Aussies call "bull holes" – these are big holes in the dirt where you can drop into which have been caused by the rain swirling in one section.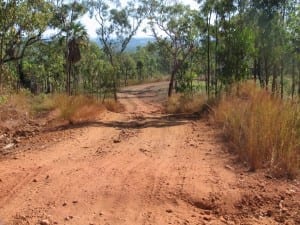 As well as the road conditions you also have numerous river crossings to deal with. Britz ask you not to use your vehicle in a river where the water is more than half way up the wheels. Whilst we didn't get the water over the bonnet we did break that little rules several times!
Our first destination along the Gibb River Road was El Questro. This used to be just a very large cattle station but now focuses very much on tourism. It provides everything you coukd possibly want from very exclusive suites which overlook the Chamberlain Gorge to private serviced camp sites several kms from the main buildings which was were the basic camp sites were – this would be us then!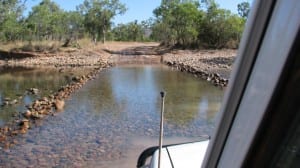 To get to El Questro we had to negotiate our first river crossing – you can see the bottom here – made of big boulders – this is a good one – the hardest are those with sand/mud in the bottom – you need to keep moving as fast as you dare otherwise you will get stuck and sink!
Having booked in at El Questro for 2 nights we had a look at what we could do there and decisied that that afternoon we would attempt the 4WD Track to Saddleback Ridge.
7km round trip from the Station. This track was recommended for experienced 4 x 4 drivers only. This was a very steep, narrow and challenging 4WD track which took us from the well watered Pentecost Valley with its abundance of riverside vegetation, through a landscape which quickly changed to rocky scree slopes sparsely covered with spinifex and grevilleas. The end was immense a spectacular 360 view from a platform overlooking sandstone escarpments, the Station and the Homestead in the distance.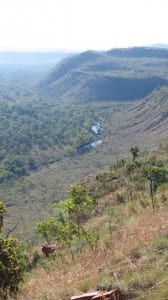 We spent the evening in the company of some really nice Australian people. They were amazed to find that we actually lived in the UK and were doing this on our own – we are apparently much more adventurous that the usual visitor to Australia! They gave used lotts of tips – like how to pack the fridge. This little beauty looked like a cold box but it is powered and works very well. We had got a mixture of yogurt and coke from punctured cans and cartons in the bottom of the fridge – caused by rattling along the road. The trick is to pack it really tight with towels etc stuffed into the top to stop anything in there moving! We didn't have any more breakages after this tip!
The next morning we set of early to walk up the El Questro Gorge – not the easiest of walks either of us have attempted – the were huge boulders in the bottom of the gorge – so lots of scrambling over them. The vegetation in the gorge was wonderful – lots of massive ferns and palm trees.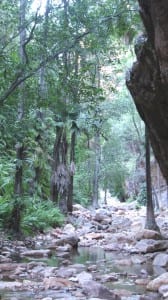 We then went to Zebedee Springs and sat beside the creek to have our lunch – it was beautiful there lots of really big gum trees and a huge Boab tree – I was amazed when we first saw these on the the Victoria Highway as I had thought these trees were only found in Africa. There are some huge ones here as can be seen below.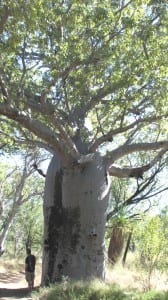 After lunch we headed back to the camp site as we had booked a boat trip down the Chamberlain River through the gorge. We were hoping to see the elusive and tiny rock wallabies that live on the vertical faces of the gorge.
It turned out to be a great trip – our guide was very knowledgable both about the history of the station and the wild life that we saw there. At present there are no crocodiles living in this part of the gorge although a few years back one big salty was living there until he started to take to much interest in the boats on the river – so they caught him and shipped him out to the Crocodile farm at Wyndam.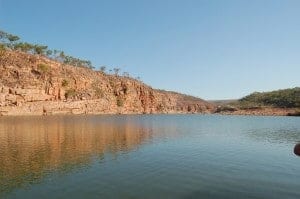 We did see the rock wallabies but they were too far away and too fleet of foot to get good photos. There were trigger fish in the water and Greg the guide managed to get them to fire the water at some treats he held out for them. The evening sunset was celebrated with a glass of bubbly – just perfect!
Back at camp we met some more friendly campers – both Australian and Dutch – both were on their way back to Kununurra having just come from The Mitchell Falls which they raved about. We had thought that this may be too tough for us but they persuaded us otherwise so we went to bed wondering if we could, should, dare to go there – to see what we did you will have to read Part 2.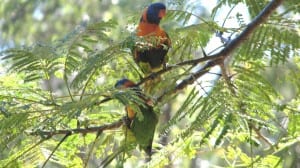 The parakeets in El Questro camp site.