Camilla travelled to Canada this summer with her partner Tom, eager to see as much of the Rockies as humanly possible in a two-week whirlwind trip.   Here she recounts their impressions as first-time visitors to this beautiful region as they made their way as independent travellers overland from Vancouver to Calgary.
'Our Air Transat flight was delayed 2 hours, but nothing was going to get us off to a bad start.  Arriving into Vancouver in the afternoon Tom and I went straight to Avis to pick up our hire car. We had been allocated a Chevy Cruise, which had plenty of boot space and most importantly good air-conditioning, because Vancouver was HOT!
We were staying in a small guest-house within walking distance of Downtown, Chinatown, Gastown and most importantly Canada Place where all things touristy stem from in Vancouver.  After exploring a little we settled for dinner and drinks in Canada Place and let jetlag take its course.
We were booked onto the 8:30am whale watching excursion with 'Prince of Whales', so it was an early start. Having been wide awake since 5:30am this was no problem and after breakfast we made our way to the Bayshore West Marina. The water was calm and the sun was shining, even without whales this would have been a beautiful boat trip.
Wilma, our passionate naturalist, spoke to the boat about the wildlife we were hoping to see and right on cue some elusive harbour dolphins popped up near the boat. We were lucky enough to spot Yogi the humpback whale within the first hour of the trip and watched her spout and dive.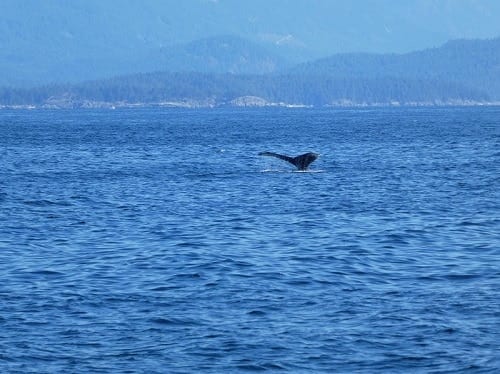 The boat also took us further into the Strait of Georgia and round Bowen Island into Howe Sound in search of Orcas, but to no avail. We did see sea lions and a bald eagle being attacked by seagulls at White Island before making our way back to the harbour.
For the afternoon we took a free bus from Canada Place to Capilano Suspension Bridge Park. I would recommend visiting later in the day as it stays open until 8 pm and when we got there it was packed. The suspension bridge itself is very impressive and the history was interesting, however the rest of the park was underwhelming and is simply a forest experience for tourists close to the city.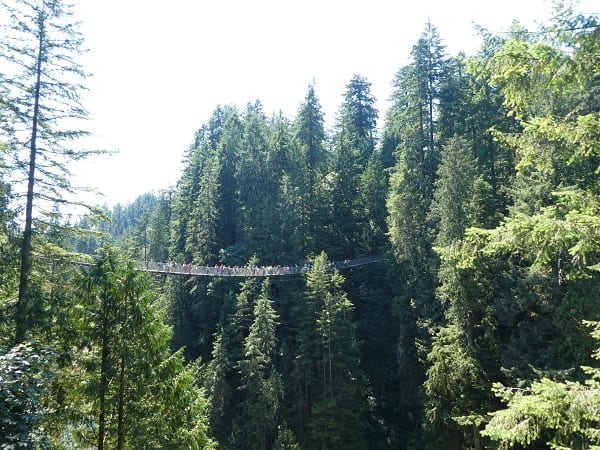 Back in the city we ended up in Davie Village for cocktails and dinner. Vancouver's gay quarter is colourful and friendly, even the crosswalks are rainbows. That night the Patricia was hosting an 'open mike' jazz night, Tom being a drummer was intrigued and it turned out to be some of the best jazz he had seen live, with talented musicians coming from far and wide.
The next day we had family and friends to catch up with and we did a lot of walking!  They took us to Stanley Park which we hiked across from one side to the other via Beaver Lake. Then we walked along the seawall back towards Vancouver and took a False Creek Ferry over to Granville Island which is full of artisan shops, working studios for every art form including pottery, woodwork, jewellery and blacksmiths and of course the market full of fresh produce and locally made products. We had a reservation at Edible Canada for dinner, where all their ingredients are from the best Canadian sources. The food was great, but it was even better to be sitting down!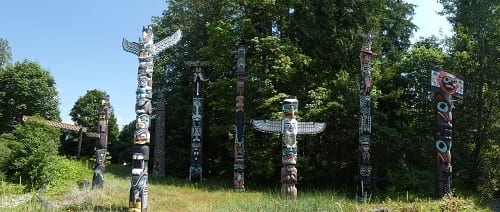 There is a small ornamental garden nestled in Chinatown called Dr Sun Yat – Sen Park. Early in the morning we found it was a tranquil place to take a moment away from the hustle and bustle before getting started with the day. Back at Canada Place we went to try out the latest attraction, Fly Over Canada. For 8 minutes our seats were suspended over a 20-metre spherical screen taking us on a birds-eye-view journey over Canada's best known landmarks. Effects such as wind, mist and scents, combined with the ride's motion created a flying sensation.
Then we were booked in for more family time at Grouse Mountain. We took the cable car to the top and were just in time for the "World Famous Lumberjack Show".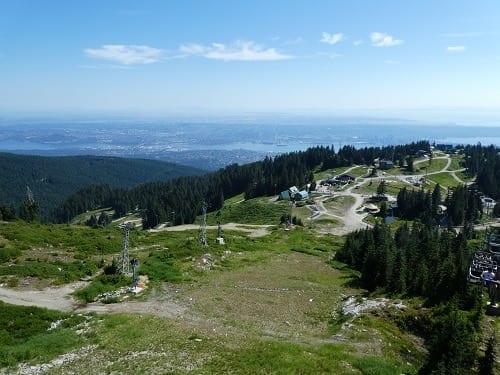 Afterwards we spotted the resident grizzly bears cooling off in their pool, watched the impressive bird show and took in the views over Vancouver.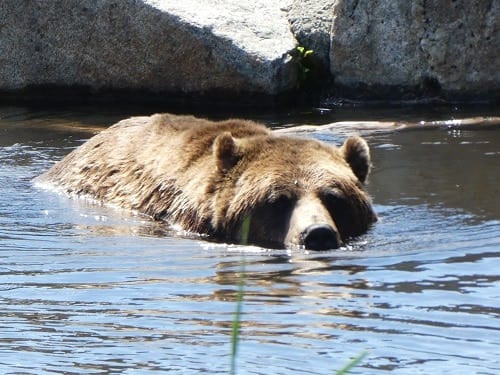 For dinner we took a scenic drive to White Rock and sat on the rooftop at The Boathouse enjoying delicious seafood as the sun set over the ocean.
It was farewell to the Patricia as we left Vancouver behind us and set off on the Sea to Sky Highway towards Whistler. The road was a lot of fun to drive and the scenery spectacular, with the glacial blue waters of Howe Sound to the left and mountains creeping up in the distance.
We made a stop at Shannon falls, before heading up the Sea to Sky Gondola in the Coastal Mountains. At the top there are viewing decks overlooking Howe Sound and Stawamus Chief Mountain, a swing bridge, and a variety of walking trails. We walked the Panorama Trail to get a better view of The Chief, a granite dome holding spiritual significance to the First Nations People of this area whose traditions say it is a longhouse transformed to stone. Then the Wonderland Lake Loop, which had only opened that day and lived up to its name!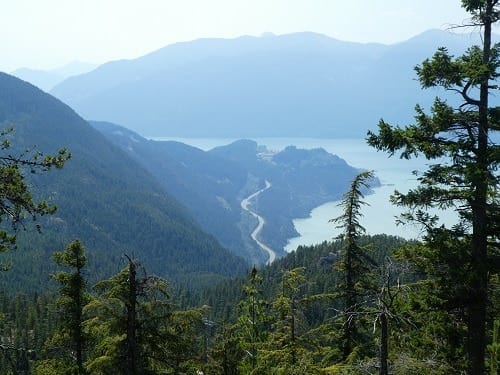 After the heat of the mountain we thought the best way to cool down would be a nice cold Canadian craft beer. We were recommended Howe Sound Brewery in Squamish and the beer was not disappointing. It took us almost an hour to drive on to Whistler and the Hilton was certainly a step up from The Patricia! I felt right at home in the busy mountain town. We ended the day with drinks at Longhorn looking up the mountain through the bike park.
The next day, I was very excited to see an old friend. Having lived in New Zealand for many years I have friends flung far and wide, Chris and his Canadian girlfriend Amy were on hand to host our stay. No visit to Whistler would be complete without a trip up the Peak to Peak Gondola and it would be our third gondola in as many days!
First, we caught the Whistler Gondola to Roundhouse Lodge and made our way straight to the Peak to Peak Gondola which connects Whistler Mountain to Blackcomb.  When it was built it held the world record for the longest free span between ropeway towers at 1.88 miles. The gondola offers some pretty impressive views and access to walking tracks on Blackcomb mountain all overseen by the comical marmots hiding in the rocks.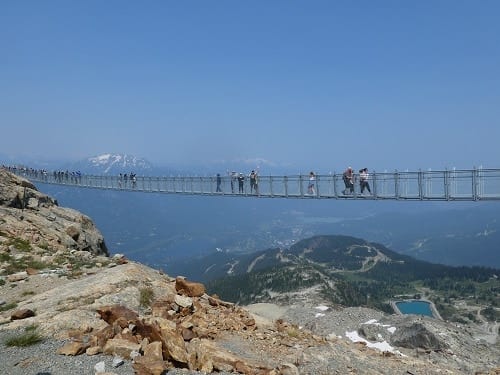 We took a glass bottom gondola back to Whistler Mountain, offering views directly down to the valley floor. There are various other chairlifts running in the summer, one of which took us up to a 130m suspension bridge spanning from Whistler Peak to the West Ridge over Whistler Bowl. In terms of gondola and swing bridge experiences these would both me my top pick.
For lunch we caught another gondola down to Creekside and ate at Dusty 's. We technically weren't allowed to ride this back up, but a gentle word worked a treat. A good thing too, because we had our first black bear sighting on our ride up. Back in Whistler Chris kindly sorted us all with bikes and took us on a leisurely 8km bike ride round Green Lake.  We ended the day with Pizza and our first Caesars, Canada's easier drinking version of a Bloody Mary, at Blacks and farewell drinks at Tapleys.
Today we squeezed in the Eagle tour with Ziptrek at 8:50am before departing on our 5 hour journey to Sun Peaks. There were only 4 of us on the tour, which meant we completed the course of 5 ziplines in about 2 hours. Our guides Beth and Freddy were entertaining and full enthusiasm for the forest and the wildlife it supports. The first line was the longest and as there are two side by side we could zip alongside each other. Throughout the tour we crossed the Fitzroy Creek several times crossed 4 treetop bridges, walked passed mountain bikers hurtling down the tracks and saw the 2010 Winter Games bobsleigh and skeleton tracks.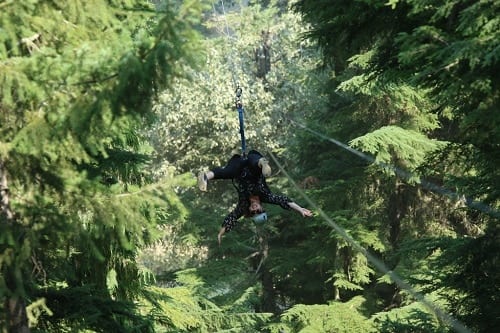 On the way to Sun Peaks we stopped to have a quick look at Nairnes Falls then watched the scenery change from lakes, rivers and tree covered mountains into dry grasslands and back to rugged mountains and hilly forest as we arrived in Sun Peaks. We were staying in Sun Peaks Lodge, located bang in the middle of this quaint mountain village. In the winter it centres around snow sports and in the summer mountain biking.
When I looked over our balcony the next morning there were market stalls lining the street. Locals were selling homemade baked goods, crafts, natural remedies and honey. We met more of Tom's family at Sun Peaks Grand Hotel for a satisfying buffet breakfast. Afterwards we had spotted a small helicopter taking scenic flights over the village, we decided to squeeze one in before hitting the road.
We had a long drive ahead as we were staying the other side of Jasper National Park, plus we would lose an hour crossing the British Columbia/Alberta border. The drive was stunning and as the peaks increased in size and Mount Robson crept into view ahead of us we really felt like we were in the Rockies.
As we entered Jasper we purchased our park tickets at the gate station and had been in the park less than 2 minutes before we saw a black bear at the roadside trying to figure out the best way to cross. As we arrived at our hotel a thunderstorm rolled in and we were drenched between the car and the entrance!
As we drove towards Jasper we saw a group of Big Horn Sheep by the ride of the road attracting the attention of passers-by. It was easy enough to find parking, so we popped into the visitor centre, one of the first rustic buildings to be built in a Canadian national park. Armed with our tourist maps we drove north out of the town to Pyramid Lake where we hired a 2-person canoe to get us on the water.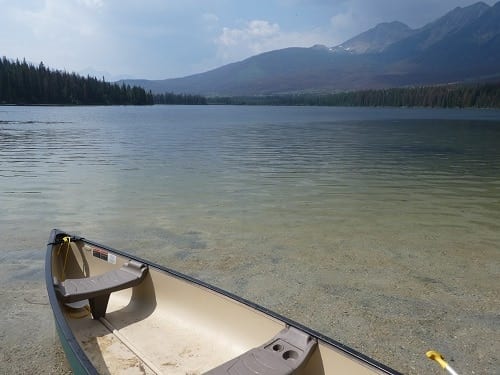 We paddled past Pyramid Island and over to the far side of the lake. Sat on our own little beach we had a picnic lunch and soaked up the views across the glassy water. Then we heard a crack of thunder and moments later a fork of lighting shot through the sky. The lake turned grey and less glassy! We thought we'd better head back before it got much worse. The rain came hammering down, the wind picked up and we were out in the open lake with waves threatening to jump over the side of our boat! It was hard work to gain any ground and we decided the best thing to do would be to take shelter on the island and get off the water before we ended up in it!
Back on dry land we lifted out the canoe and in the hope we could carry it across the island and the water would be calmer the other side. The guys we hired the canoe from turned up in search of all their customers! They advised us to take the walking trail back to our car. A herd of deer were blocking the path, they stood their ground and we were forced to find another way.
Back in Jasper the weather brightened up and dried us out, but more importantly I discovered how good chocolate covered popcorn is. We decided to spend the rest of the afternoon doing something more relaxing and drove out to Miette Hot Springs. For CDN$7 we soaked for hours in the natural spring baths, cooled to a comfortable 40°C, surrounded by the national park. Feeling lazy we had a steakhouse dinner by the hotel to round off the day.
We saw mountain goats next to the road as we drove to the start of the hike I had chosen from Maligne Lake. Our drive south east along the road of the same name took us past Medicine Lake, which is incredibly scenic and well worth a stop. We were aware that there was a grizzly bear warning on the Opal Loop which was the track we had chosen. It is best to travel in larger groups and make plenty of noise when walking in this situation. Usually I would be frustrated by 3 backpackers playing music as they overtook on a wilderness trail, but this time I was delighted.
The start of the walk was a steep climb through a thick fir forest. It took us almost 2 hours to reach the top. The trees provided welcome protection from the hot sun, but were also home to a high concentration of mosquitoes and flies which bit chunks out of us. Swatting these away took precious energy, but soon we found ourselves on an open meadow, which when you looked closely was covered in marmots, who would sit upright and stare at us, then dart off in every direction if we made any sudden movements. We had walked the loop clockwise as it is steeper on the up and less steep on the down in this way round. The descent still felt pretty steep, but was much quicker than the ascent.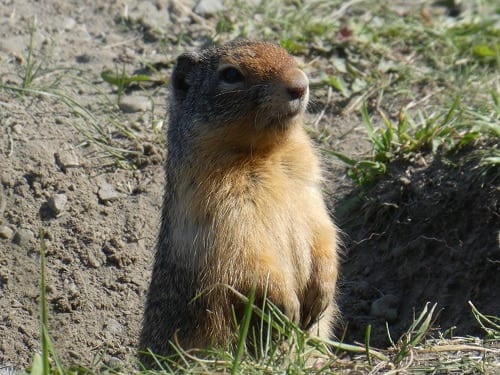 Finally, back at the car, sweaty and itchy from all the bites we decided to go for a swim. On the drive back along Maligne Lake Road we experienced our first bear jam. There was a mother black bear and her 2 cubs clambering over rocks at the side of the road. I found it incredibly frustrating that there were several people out of their vehicles chasing the bears along like the paparazzi.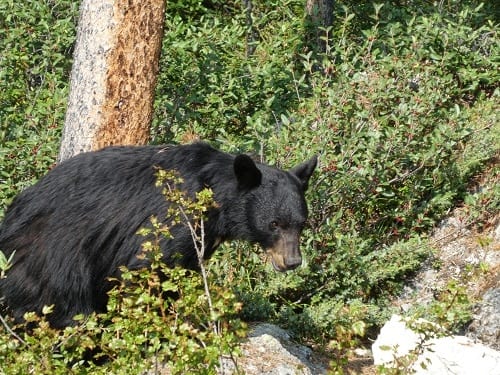 The closest swimming lake was Lake Arnette. We found a small beach with a little jetty and pontoon. Walking out over the lake the water was crystal clear and bright turquoise. Being a glacial melt water lake I had my reservations about the temperature, but on the count of three we dove in head first and it was perfect. Cool, refreshing and pristine, I didn't want to get out!
It was time to hit the Icefields Parkway on highway 93 to Banff, with a full tank of fuel we set off along one of the most scenic roads in the world. Some Caribou were wandering through the trees by the side of the road as we joined 93 from Jasper. We made stops at Athabasca Pass Lookout, Athabasca Falls, Goats and Glaciers, Sunwapta Falls (where we also had the best poutine of the trip!), Stutfield Glacier, Tangle Falls, Columbia Glacier Lookout, Icefields Centre (where we chilled with some chipmunks and walked up to the edge of the glacier), Peyto Lake (the highest point on the Icefields Parkway), Bow lake, Crowfoot Glacier and Lake Louise before we arrived in Banff.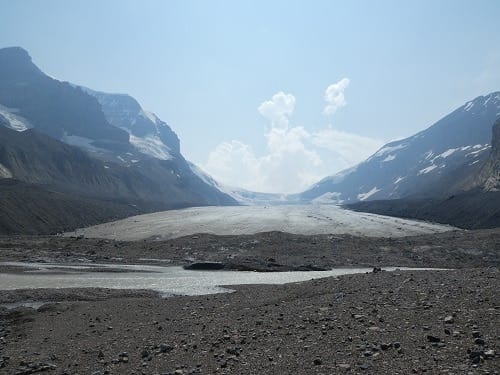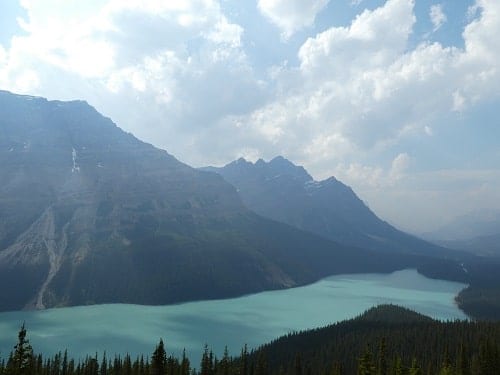 Our lodge was on the main road into town and was a straightforward 20-minute walk to shops and restaurants. We managed to get the last table at Chuck's steakhouse and once the food came we could see why it was so popular, the steaks were perfect. There are lots of bars to choose from for after dinner drinks, The Park Distillery make all their own spirits and have some interesting flavours to choose from. We found a place with live music and made a night of it.
We had a slow start the next morning and decided this would be a day of rest. Nothing to do with the night before! We spent the day exploring Banff. There was a distinct haze from some forest fires nearby and the surrounding mountains were barely visible.
A friend of mine is a river rafting guide on the Bow River for Chinook River Rafting. They are based between Banff and Calgary, so we arranged to go rafting with Max on our way through. We left in plenty of time, but got a bit lost on the way and just made it in time! We were geared up with wetsuits, lifejackets and helmets and jumped onboard the yellow school bus to take us down to the river.  On the way to the river guides pointed out a nesting pair of Osprey and their chicks. I soon spotted Max prepping the rafts by the river and we were split into groups of 8 and allocated a boat. After the first rapid we had the option to do a 3m or 10m cliff jump, this is usually optional, but for me Max said the 10m was mandatory!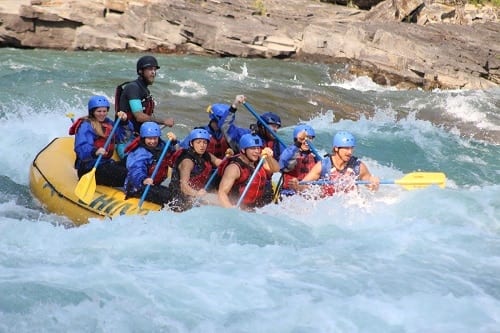 After this we jumped back in the rafts to complete the rest of the grade 4 rapids. We were floating through First Nations land, which is only accessible by river. There are only 2 companies permitted to raft this area, so we felt very lucky to be here. Scenes from movies including 'The Reverent' and 'Legends of the Fall' had been filmed on the banks of the river, needless to say the scenery was stunning.
When we reached the end of our trip we helped carry the rafts up to the buses. Soon we were saying our goodbyes and were back on the road leaving the Rockies in the rear-view mirror as we made our way to Calgary.
It is easy to explore Calgary on foot, we walked through Chinatown and the shopping district. 17th Avenue is full of places to eat and drink, I can recommend Mill Street Brewhouse for, you guessed it, craft beer as well as delicious food.
Our final hours in Canada were spent at Skyline Luge at the Olympic Park in Calgary. As I had worked for the same company for over 4 years in Queenstown, New Zealand I had to compare tracks and see if I still had the skills! Racing is strictly prohibited, but I thrashed Tom at every corner! Sadly, that marked the end of our epic Canadian adventure as we made out way to the airport.   It had been a brilliant two weeks and I can thoroughly recommend Vancouver and the Rockies to anyone keen on the Great Outdoors.'
For assistance with planning travels in Canada, contact Camilla who will be delighted to help with tailor-made trips, self-drive itineraries or small group tours.