This was our second trip to the home of the 'big five', rolling savannah and acacia trees. My wife had fallen hook, line and sinker on our first trip to Africa eight years ago and our return visit didn't disappoint either her or me.
After landing we headed out of Nairobi and stopped en route to Lake Naivasha for a bird's nest panoramic view of the Rift Valley. It was also one of the group's first experience of an African toilet and he seemed less than impressed. Both the view and the toilet were a glimpse of what was to come.
The first day was something of a blur seen through hazy, tired jet lagged eyes memorable for the swooping sea eagles fishing  and the grunting hippos surfacing around us as we took a boat trip on the Lake.  Tea and cakes on the lawn at Joy Adamson's house followed by a DVD about her and her husband's work with lions induced gentle snoring amongst our party before we headed back to the camp site and the onto the Masai Mara the next day. It was time to experience African roads.
Before we had done game drives in the 'big truck' but now the group was collected in 3 four wheel drive vehicles and we set off on an 'interesting' and not exactly smooth ride to one of the most famous game parks in the world.
Our driver, Ben, was a man on a mission determined that we should see as much as possible and he certainly didn't let us down. We didn't take the balloon trip option on the first morning in the Masai Mara but instead went for a game drive where we saw lions, buffalo and so many zebra and wildebeest that we became quite blasé about these animals whilst becoming experts on spotting the different types of gazelle and the occasional wart hog.
We met our ballooning chums, full of stories of what they had seen and the scale of the Masai Mara when seen from the air, at an upmarket game lodge where the staff greeted us on arrival with warm towels and a fruit cocktail drink. I don't think they realised we weren't part of the American group checking in at the same time!
After using the luxurious wash rooms, we set off again for more game spotting, including ostriches and the strutting and rather snooty looking Secretary Bird and a picnic lunch under a giant acacia tree on the brow of a hill. This really was being on safari!
The highlights were a large and very handsome male lion that crossed the road so close to the vehicle that you could have reached out and touched him, lay down by the side of the track, yawned and nodded off in the sun, a lone cheetah sitting in the middle of the savannah and at the end of the day Ben's certainty that he could show us a leopard, which he did. The sightings of these magnificent animals are never to be forgotten.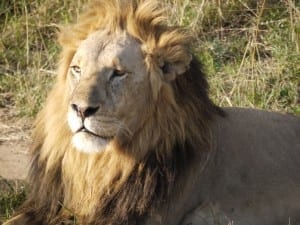 Via a farm, run by an ex pat family where we stayed and they bred horses, we arrived at Lake Nakuru where we hoped to see rhino, both black and white, and we were told we almost guaranteed to see flamingos.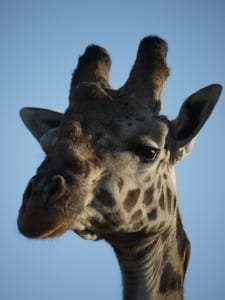 What we hadn't counted on was seeing lots of giraffes grazing on the thorn bushes and families of baboons swinging around in the trees and staring in at us looking at them from inside the truck.
As 'advertised' there was  a dazzling array of flamingos on the soda lake but unexpectedly for us there so many rhinos (both black and white) – about twenty in one group alone – that it was simply jaw dropping.
After a night of 'wild camping',  where once again the toilet facilities provided a topic for conversation around  the camp fire,  we set off for Uganda and a chance to relax at a camp beside the Nile where the more energetic members of the group went white water rafting or horse riding.
Then it was across the Equator and on to Lake Mburo national park and another very basic camp site where we slept fitfully to the noise of snorting hippos by the water's edge. There were  wart hogs in the camp site and in the morning a baboon that stole an entire loaf of bread from the kitchen area.
There was then a couple of nights at a campsite on Lake Bunyoni before we headed across the border into Rwanda and what promised to be the highlight of the trip – the mountain gorillas.
Small vehicles collected us and took us to the foot of the volcanic mountain range before we were split in small groups and set off. After a few hours of stiff walking through potato plantations and past grazing cattle we set off into the thick bamboo and fern 'jungle' where our guides, in touch by radio by trackers told us we would soon see the gorillas.
After literally holding our breath in anticipation for the next few minutes, the guides asked us to drop our ruck sacks and walking sticks and to follow the guide chopping his way through the undergrowth with a machete.
Almost without warning we came across a giant silver back within feet of us. It was a truly heart stopping moment and from we were unbelievably close to family groups and young gorillas who seemed intent on showing off for about an hour.  All the while the look on my wife's and our travel companions' faces was one of wide eyed wonder.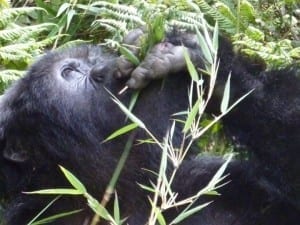 We tried to communicate in  hushed whispers but words didn't really sum up what we were privaleged to witnes and too soon our magical time in the company of the gorillas had come to an end. It had truly been awe inspiring and unforgettable hour and one that in terms of a face to face wildlife experience is unlikely to be topped.
Then it was back to Kigali and the flight home.
The trip exceeded our expectations and the finale of seeking the gorillas was everything we hoped it would be and more.
We had seen the 'big five' and lots else besides – one of our party said we had seen over 50 species of wildlife – and had visited three countries each one with its own diverse culture and landscape.
It's not only the wildlife that makes Africa such a special place, it's the people too. No matter how little they have, they are forever smiling and are typified by the Exodus big four  – Often, our  award winning guide and his crew of Wilson, Onasmus and Benard who were quite simply as magnificent as the things they showed us.
Nothing was too much trouble. The delicious food, produced in the most difficult of circumstances – the breaded fried fish in the middle of a 'wild campsite' was exceptional – by Wilson, the safe and expert driving by Benard (and occasionally Often) were as extra-ordinary as the road conditions, Onasmus' permanent smile day and night and the whole crew's  combined knowledge and great good humour always going that 'extra mile' made this truly the trip of a life time.
Often and his crew's energy and attention to detail  was amazing and they are not only a credit to the company but also to their fabulous country.
Often, the Exodus boys and Africa thank you for a fabulous trip. We will be back! Chris & Lucy Smith.