Rob has recently returned from 3 weeks travelling with his family in Sumatra and Java in search of coral reefs, orangutans, Buddhist ruins and smoking volcanoes.  He recounts their journey here…
Pulau Weh is a tiny jungle-clad island off the coast of Aceh province at the northernmost tip of Sumatra.  We travelled here via an Emirates flight from Heathrow, an overnight in Kuala Lumpur, an Air Asia flight to Banda Aceh and a 2 hour ferry crossing.  Finally, 2 motorised tuktuks transported us from the port to our beach hut perched on a bluff above a golden stretch of boulder-strewn sand.  It was good to arrive!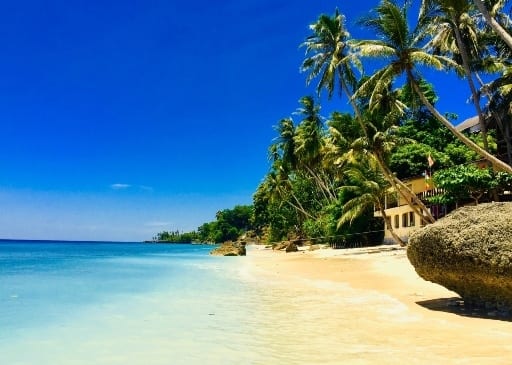 We spent the first 4 days of our trip here snorkelling the reef by day and enjoying home-cooked buffet meals each evening prepared by our genial host 'Freddie' – an ebullient ex-pat South African with more than a passing resemblance to Bruce Forsyth!
It was a fantastic start to our time away – relaxing but active too and we made full use of a wooden platoon tethered 50 metres from shore for accessing the reef that ran parallel to the beach. We also took a boat trip out to sea at dawn one morning to see pods of around 30 dolphins, followed by a series of drop-off snorkelling points around the island's most colourful coral gardens.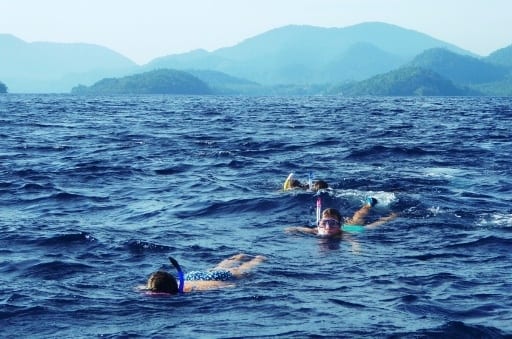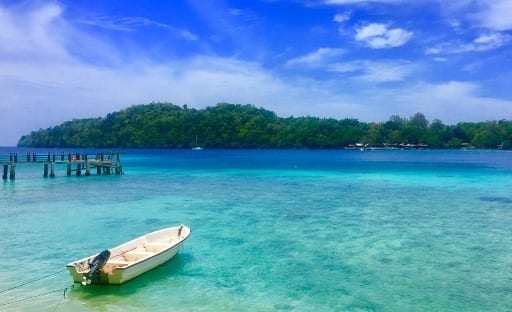 Suitably adjusted to the Indonesian time-zone, we said a fond farewell to Freddie and his crew (whose fried rice recipes Rosa had been copying down) and caught the ferry back to Banda Aceh.  Here we visited the very sobering Tsunami Museum which honours the victims of the devastation caused by the Boxing Day 2004 Tsunami that took the lives of 170,000 people in the province of Aceh.  Yusuf, our local driver, told us that his brother along with 5 of his nieces and nephews died in the disaster and he explained how he survived with his own family only because he lived in a district further inshore where they evaded the incoming water by climbing up to the first floor of their house.
From the Museum, Yusuf took us to marvel at the huge 2600-tonne ship that was pushed by the tsunami from its mooring in the harbour 3 miles inland through Banda Aceh's suburbs, bull-dozing all in its path.  This hulking great steel vessel – once an offshore electricity generating station – now resides in Punge Blang district, surrounded on all sides by the rebuilt streets of the city.  Standing on the top deck we were afforded panoramic views across the rooftops, unnervingly far from the ocean.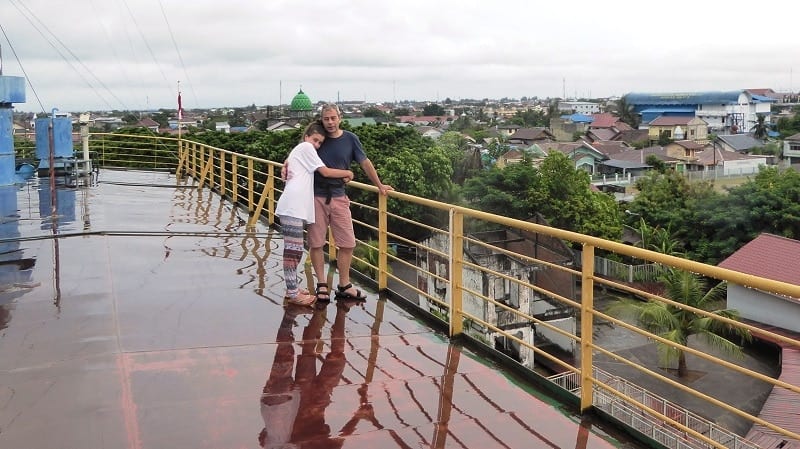 Next we stopped by to see the locally famous fishing boat that remains to this day perched on top of a half-demolished house.  59 people – and remarkably also a rogue crocodile – survived the tsunami aboard this boat.  It rather reminded me of 'Life of Pi'.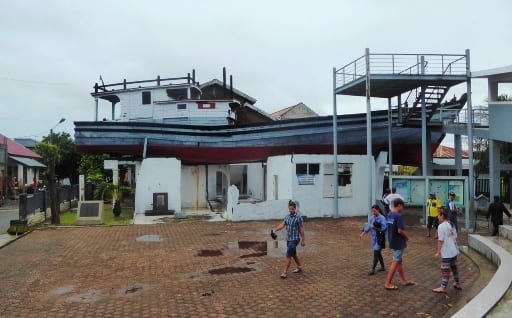 Many people took refuge in the main city mosque which was the only major building to remain largely intact in the face of the 30 metre –high wave.  This is a beautiful building with enormous electric-operated parasols around its square which are opened to provide shade on days of searing temperatures.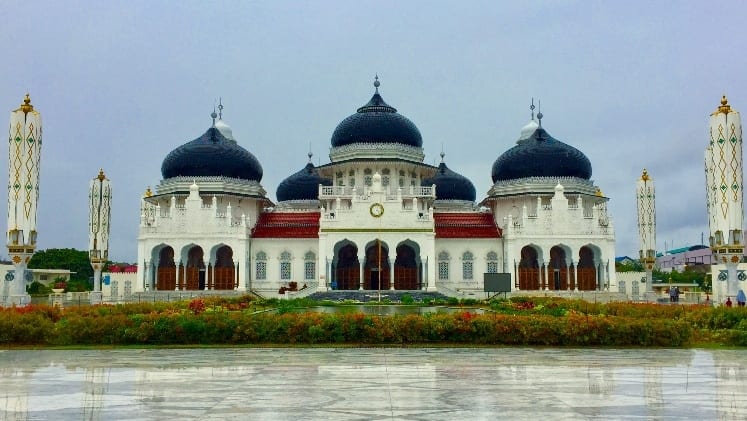 We continued our journey in northern Sumatra by heading onwards to the jungles of Gunung Leuser National Park.  We arrived by 4WD late at night on the outskirts of the riverside town on Bukit Lawang and then – to access our truly remote jungle lodge – we each rode pillion on the back of 4 motorbikes along narrow trails in complete darkness for a mile and a half into the forest.  It was only upon waking the next morning that we could fully appreciate our situation, on the banks of a meandering river with the sound of throbbing jungle wildlife all round.  It was magical.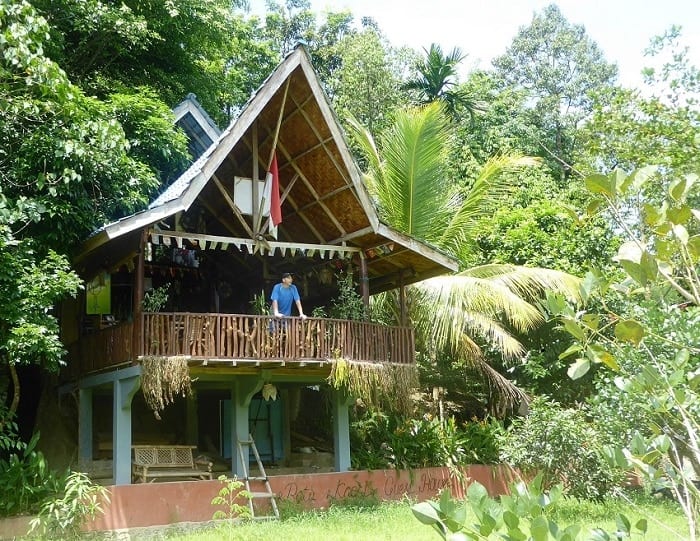 It was also lots of fun getting around the jungle on motorbike and we had a great time riding in and out of Bukit Lawang over the next few days.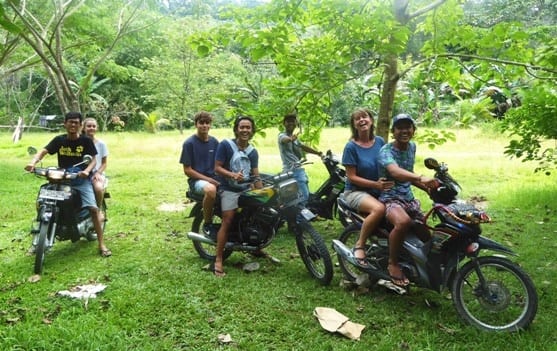 Our first day was spent enjoying the happy vibe of Bukit – it was a public holiday celebrating 'Independence Day' and the whole population it seemed was splashing about in the river on inflated inner tubes having lots of fun.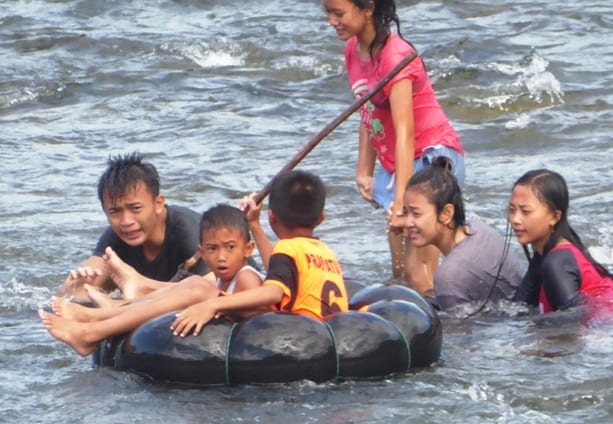 Our chief objective of course in coming to the jungle was to see orangutans and we were up early the following morning to head off into the hills with a local guide to look for these revered 'people of the forest'.
There was a network of narrow trails within the jungle that ascended up and down steep slopes.   It was slippery after heavy rain the night before but we held on to the handily available hanging vines to steady ourselves as we made our way between the trees.  Our first wildlife moment was hearing a white-handed gibbon making loud mating calls to a nearby female, then soon after we had our first primate sighting – a Thomas Leaf Monkey swinging effortlessly between branches with its striking colouring.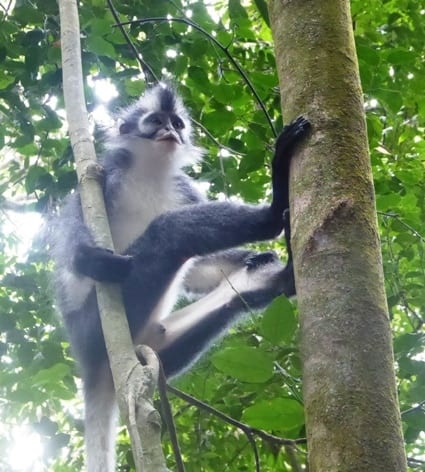 Our first orangutan encounter – a mother and baby – was a spine-tingling moment.   We came upon them as they were idly resting and eating foliage in a tree a few metres above the ground.  They were quite content for us to observe them and it was a special moment seeing their vivid and distinctive auburn hair and deeply expressive eyes.  We were able to take plenty of photographs over the next half an hour or so as they lolled about, utterly relaxed and peaceful.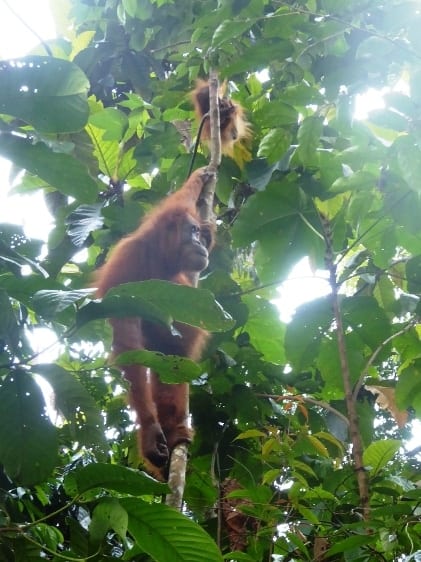 We ventured onwards and were lucky to see another half a dozen orangutans over the course of our trek.  It was a privilege to watch these amazingly gentle creatures – the only 'giant apes' outside of Africa – at such close quarters in their natural environment.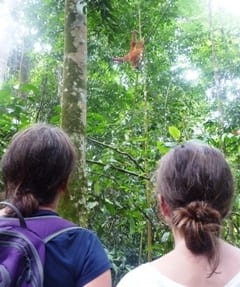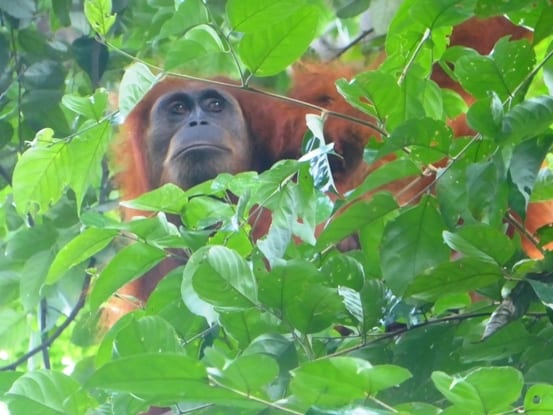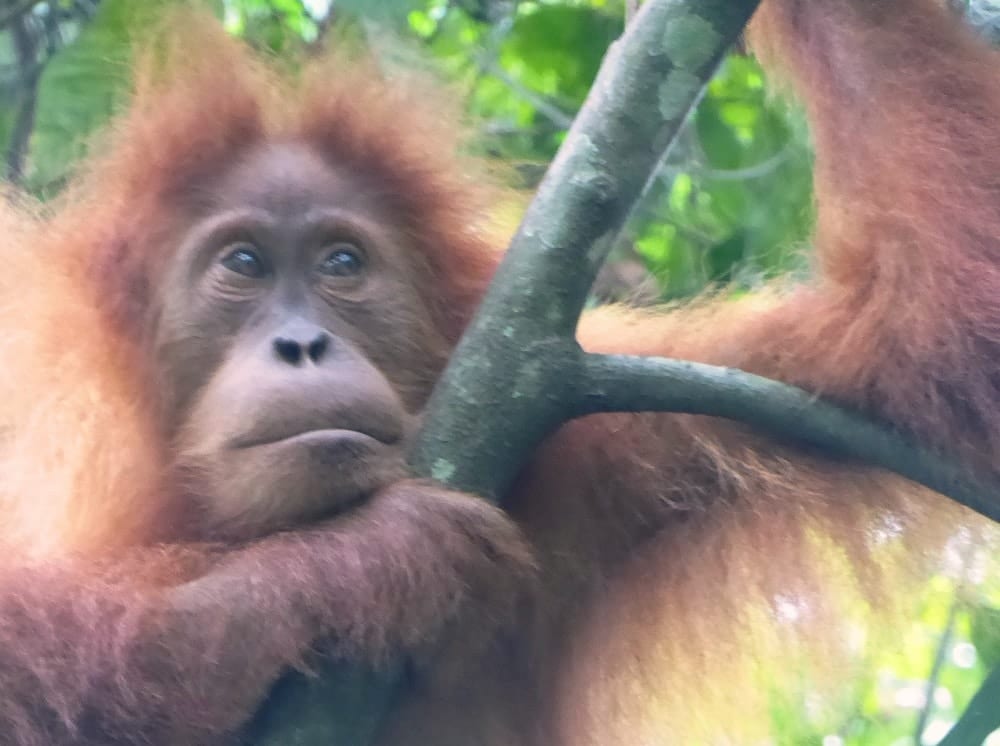 Our trek concluded with an exhilarating 30-minute rafting journey on inflated inner tubes back down the river to Bukit Lawang.  Our camera had to go into plastic bags so we couldn't take photos but you get the idea from the following bit of local graffiti…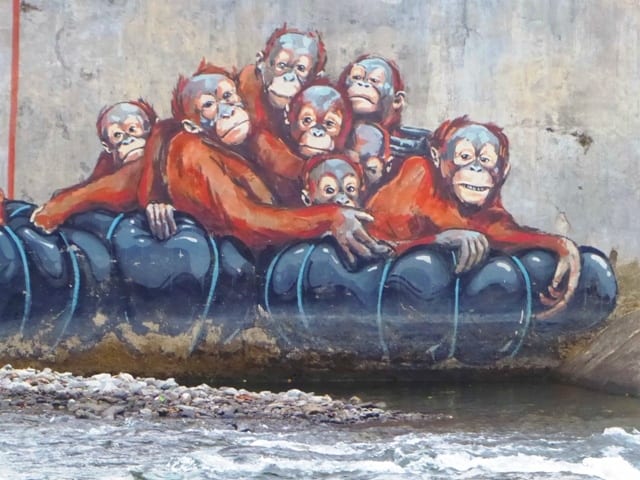 We now left Sumatra: a 4-hour road journey took us to Medan from where we flew to Yogyakarta, Java's much-loved cultural capital.  Here we spent time inside the walled city of the Kraton – the Sultan's Palace – and exploring the hidden passageways of the 'Water Castle' which were so secret that the Sultan had his architect executed upon completion to prevent knowledge of it's design becoming more widely known!
An hour's drive from Yogyakarta lies the ancient hilltop Buddhist monument of Borobudur.  Built in around 700 AD it was abandoned within 100 years and only re-discovered in the mid-1800's after lying obscured beneath layers of volcanic ash.  Now fully restored by UNESCO – all 2 million blocks of intricately carved stone-blocks were remarkably taken apart and then reassembled during it's repair – it is regarded today along with Bagan in Myanmar and Angkor in Cambodia, as one of the three most important Buddhist sites in Asia.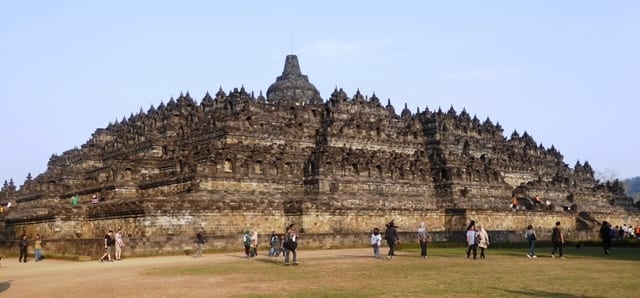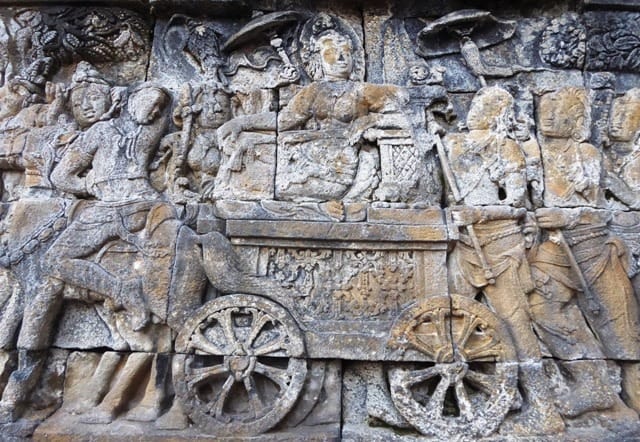 We visited at 3 pm to allow ourselves time to explore it's multi-tiered ramparts and to then be in position for sunset during which we watched it's ancient stone-work turn orange and gold.  The incoming darkness then revealed an unexpected full moon, rising with it's face a satisfyingly deep crimson.   Below and around us the evening call to prayer could be heard, providing an atmospheric soundscape and an unusual blend of two contrasting religions.
Joe assumed full control of photography during these golden moments.  In fact most of the photos in this blog are his and Rosa's – I have long ceased trying to compete with them for artistic merit!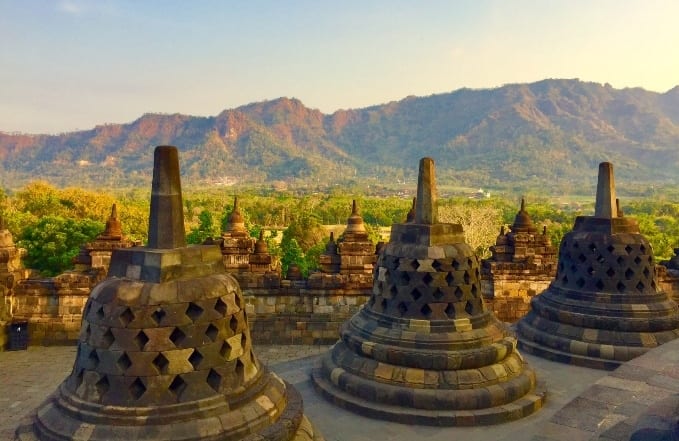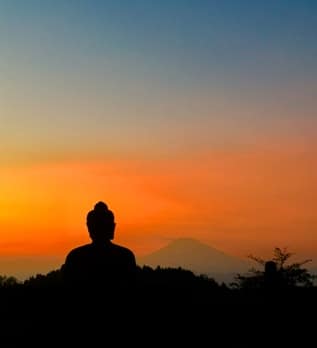 From Yogya we travelled eastwards by train for five hours, playing gin rummy in the buffet car whilst we sped across endless vistas of emerald green padi fields stretching away to distant looming volcanoes.  We jumped off in Surabaya and found a local driver to take us the long uphill road journey to Cemoro Lawang, a village reminiscent to me of a Himalayan hill-station and situated literally on the lip of the grand caldera that surrounds the volcanic peaks of Mount Bromo. The temperature dropped from 35 Celcius to 15 Celcius as we ascended from sea level to an altitude of around 7,500ft.  It would get colder still later that night …
We were in bed by 9pm, ready for our 3am wake up call.  In darkness and in freezing temperatures we travelled in a fat-wheeled jeep firstly down the side-wall of the caldera and then steeply up again to the ridge to gain a viewpoint from where we could watch – along with hundreds of other early-risers – the sun rise over the edge of the crater.   We were wrapped up under blankets with woollen hats pulled down over our ears as we waited for the first warming rays to arrive which they duly did at around 5.30am.
Slowly below and before us the wondrous unearthly spectacle of Bromo and its accompanying peaks and volcanic vents was revealed, their deeply furrowed flanks casting dramatic shadows.  This must be one of the most sensational panoramic viewpoints on the planet!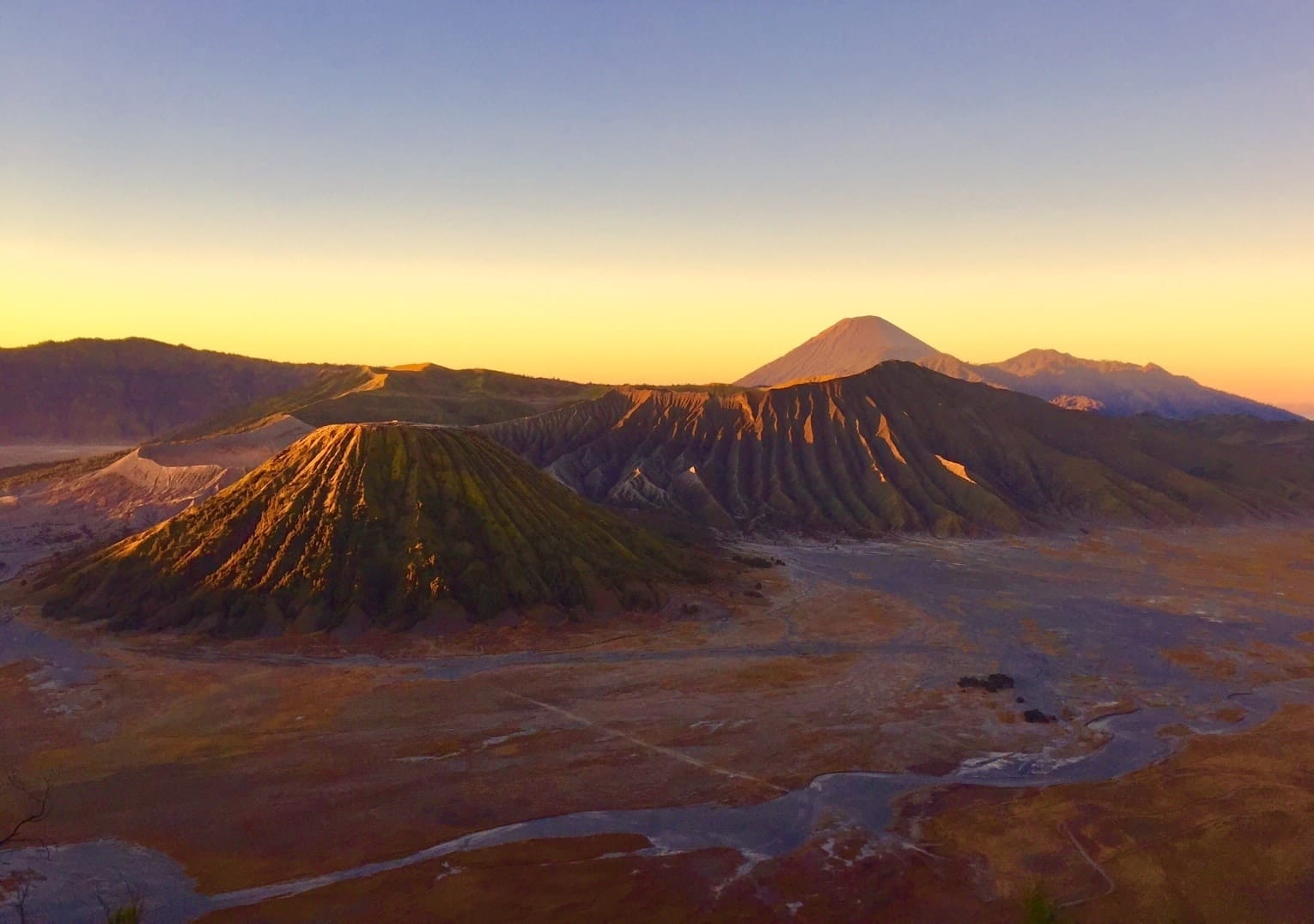 After dawn we headed back down to the caldera floor and hiked across the so-called 'sea of sand' to the Bromo crater, climbing up to the lip from where we peered down into the dark heart of the volcano where steam rose in dark grey clouds.  A month earlier there had been an eruption and Bromo had been out of bounds for a few weeks, so we were very fortunate with the timing of our visit.  It was great for Joe and Rosa to see more 'geography in action' on the trip – tsunamis and volcanoes each feature prominently in their GCSE syllabus.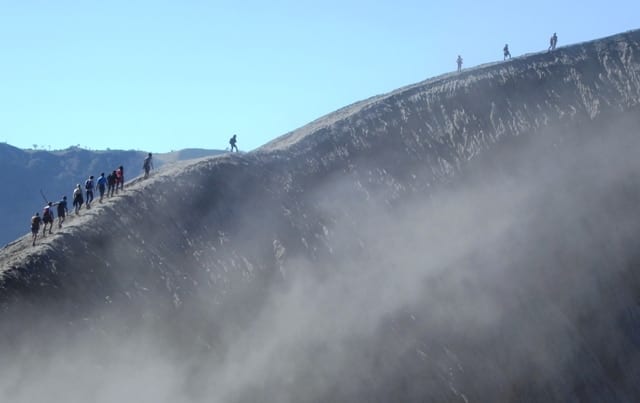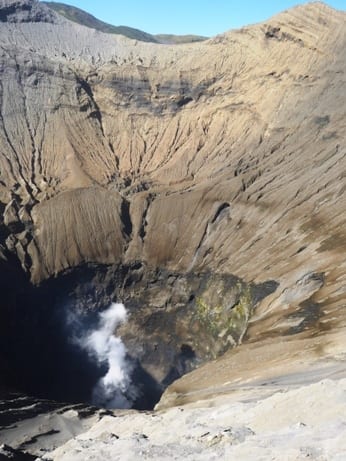 Our final stop of our journey was Tioman Island.  We returned to KL and from here a 5-hour road journey to the east coast of Malaysia, followed by a 2 hour ferry crossing, brought us to this tiny tropical islet in the South China Sea.  Once off the ferry we boarded a small motorised boat and sped 5 miles south to Minang Cove, bouncing along on a huge swell and having to carefully time our leap onto the wooden jetty to avoid a soaking on arrival.
The scene welcoming us as we stepped ashore was one of almost implausible beauty.  Minang Cove is a crescent of sand with huge Praslin-esque boulders scattered all about and the thatched and terracotta-tiled bungalows of the small beach hotel nestle between the palm trees.  Rising magnificently above the cove are huge 'fangs' of limestone that give a 'Jurassic Park' flavour to the back-drop.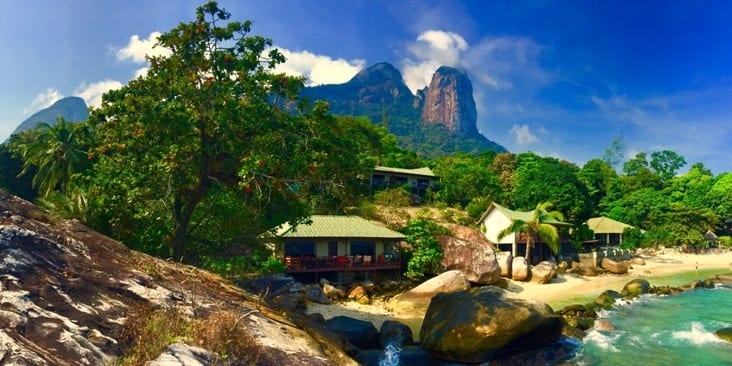 We holed up here for the final 4 days of our trip, mostly swimming and snorkelling, but also hiking one day along the inland trail to the sleepy village of Mukut with its nearby waterfall and plunge pool.  An enchanting corner of paradise. After 18 days of being pretty constantly 'on the move', this was our 'holiday inside a holiday' and we loved it.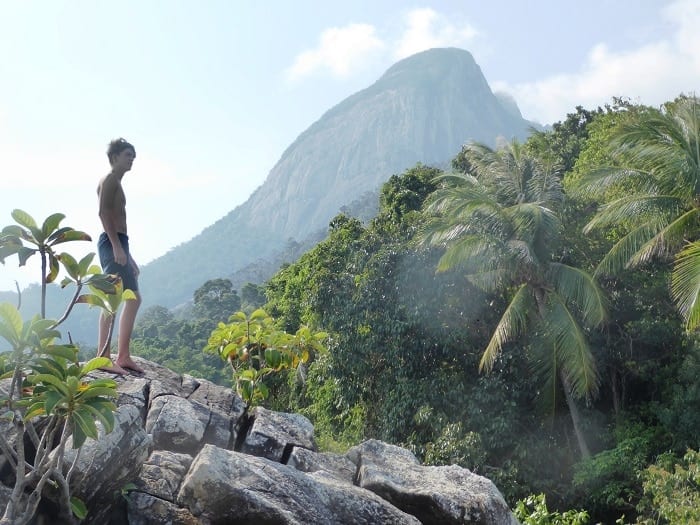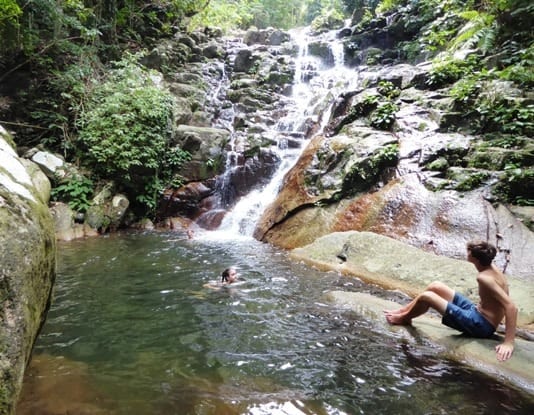 We rounded off our trip with a night / morning in Kuala Lumpur, staying in a 15th-storey apartment  just 200 metres from the Petronas Towers.  After three weeks of wilderness it was quite a culture shock to be suddenly thrust into the pulsing heart of a modern city in the shadow of soaring skyscrapers.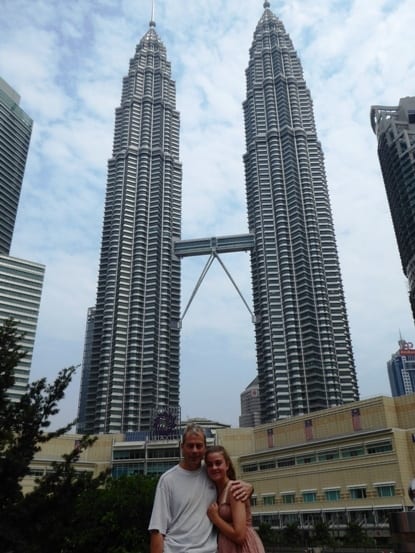 Indonesia offers a great variety of activities for energetic families and being below the Asia monsoon belt it enjoys excellent weather during the UK summer holiday months of July and August, offering the opportunity for extended stays when much of Thailand and SE Asia is sweltering with high humidity.   Speak with me about travelling here and I'll be happy to discuss the possibilities.  – Rob