Nomadic Travel's Irene Cox reports on her trip to Central America where having survived the Mayan 'end of the world' predictions she nearly succumbed to a flesh-eating spider!  Read on …
With a very personal interest to visit Central America this year – my older son being on a year-long sailing trip and suggesting to meet up on the islands of Belize – my husband and I set off to travel through the "land of eternal spring" first. Guatemala is also known as the 'heart of the Mayan world'. I always longed to learn more about the history of the Mayans and, like all of you, having survived the 'end-date of a 5,126-year-long cycle on the Mayan calendar and cataclysmic events that could happen', we started in Antigua after a very long but pleasant journey via the US.
Antigua sits in a Highland valley (1,500 meters) overlooked by the spectacular Agua Volcano, Acatenango and the always smoking, sometimes erupting, Fuego. The Spanish Colonial style permeates every part of the town: its houses, churches, squares, parks and ruins, also its traditions and folklore.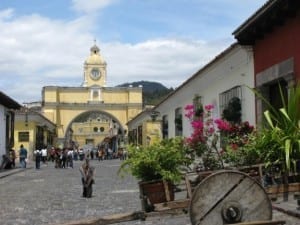 It offers a good range of accommodation and countless cafes and restaurants (with traditional or international menus), Spanish-language schools and art galleries. We chose to stay at a family run boutique hotel, in walking distance of all sights, the beautiful colonial style Meson de Maria.
Next stop Lake Atitlan and staying on the lake shore at Hotel Posada de Don Rodrigo.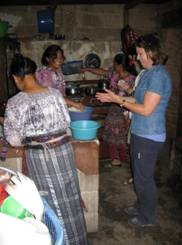 We arranged a so called community tour to one of the small villages where a local community guide took us through life in the village, showed us the traditions kept by the locals (i.e. washing laundry at the village square where all the gossip takes place, or the caves where locals still perform daily rituals and ceremonies). The highlight was cooking with locals and eating with their family.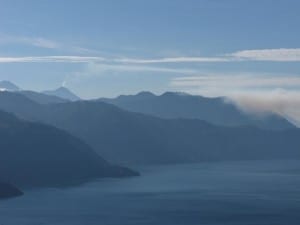 A very early start to get back to Guatemala City gave us the opportunity to stop at Chichicastenango en-route. The market of this highland town is the best known and most touristic of all in Guatemala, but even if you do not intend to buy, try to find a quiet spot on the steps of St.Tomas church and watch the 'local' world go by.
After a short plane ride we arrived at beautiful Lake Peten. We chose to stay in a small family run hotel on the other side of famous Flores Island and not only could we enjoy the peace and quiet but also a large lakefront beach with plenty of birdlife. The next day and now used to getting up with the first bird calls we met our ornithologist guide and headed for Tikal – an unusual Mayan sight found deep in the rainforest.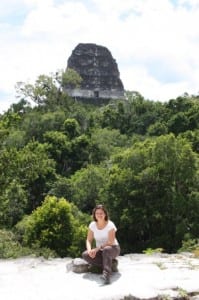 You can climb on many of the temples and enjoy breathtaking views over virgin rainforest, punctuated by other temples that surpass the canopy. It was hot and humid and I did not enjoy a spider trying to snap off the top of my nose but this was and will forever be one of the most unique and memorable sites of my travel life.
And for our last days before heading for the Belizean islands we chose to travel deeper into the jungle just across the border. First we visited another wonderful Mayan Site, Xunantunich. an impressive, well-excavated, and easily accessible site. You'll find carved stelae and one very tall main pyramid here. To reach the ruins, you must cross the Mopan River aboard a tiny hand-cranked car-ferry in the village of San José Succotz, also passing the community of Mennonites living there.
We stayed at Table Rock Lodge situated on the banks of the ancient Macal River. This is a private reserve with lots of walking trails, kayaking opportunities and incredible fauna and flora to explore.
We found Guatemala safe and wonderfully laid back, locals are helpful but shy and appreciate your attempts at speaking to them in Spanish rather than English. If you do not speak Spanish opt to pre book all your tours, the same applies to booking private transfers – the so called 'chicken buses' are safe and fun to use but journey times can be very long and schedules are not reliable.
It is best to change US dollars as the rate is better than for Pounds, if you prefer to bring Travellers Cheques you have to change at major banks and Master Card/American Express are rarely accepted in smaller hotels or in restaurants.
Belize was a shock at first – more populated, very western and very expensive. We headed straight for the Cayes, the islands  and Barrier reef. Having researched the best place to meet up with my son and his crew but not wishing to stay at the busy capitol of the main island, Ambergris, we picked again a small family run hotel and were pleasantly surprised at the standard, service and location.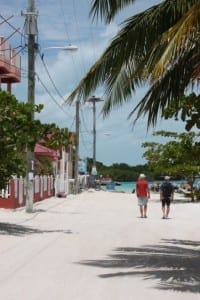 The beaches on Ambergris are busy even during the low season but having the chance to travel on the boat between islands we quickly found out the smaller islands being better value,  much more 'backpacker friendly' and cleaner. We were very surprised that snorkelling and diving on the reef is only allowed by joining tours or using private boat trips and dive schools  – with cost as high as in the US Caribbean – but we managed a few trips from the boat, inside the reef borders.
On Caye Caulker we finally indulged in white sand and turquoise waters and saw the barrier reef teeming with exotic marine life. Our attempt to dive the amazing Blue Hole was cut short due to our 'insufficient funds'  but we enjoyed the vibrant island communities on both islands and varied  family run food stalls and village restaurants. After a very emotional farewell to my sailor son we had a wonderful  small plane hop back to Belize City and a very smooth and hassle free flight back via Houston to our cold and rainy island home.