Rob and his family have just returned from Indonesia where they have been enjoying the delights of Bali and Lombok on a 3 week trip:
Joe (aged 9) and Rosa (7) had never been further than Brittany previously so we thought it would be good to break them in gently to international travel with a 16 hour flight to Bali!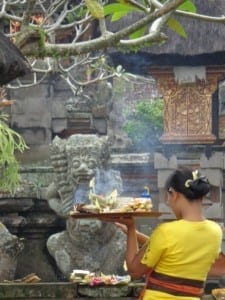 Needless to say we were rather jet-lagged but we had a splendid place to stay on arrival in the delightful 'cultural capital' of Ubud where we lodged in a wood-built Javanese 'eco cottage' for our first 5 days.  From here we ventured out to see the local sights enjoying the stone-carvings for which Ubud is world-famous, visiting the Monkey Forest with its wonderful temple and huge Banyan trees and indulging in Balinese cuisine which is at its absolute best here!
We also explored the surrounding countryside of glistening rice paddies and lush-green river canyons, taking an elephant-back ride one day – a big hit with the youngsters of course.
We then took a 60 mile speed-boat journey across the sea to Gili Air – a tiny island off the coast of Lombok.  Here we stayed in a thatched beach-front bungalow and our pulses slowed even further as we adjusted to the gentle tempo of tropical island life.  For the next 6 days we snorkelled and swam to our hearts content.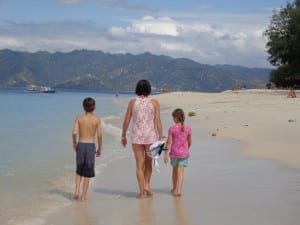 There is no motorised transport here – horse-drawn carts or hired bicycles enabled us to get about – and we were able also to take a glass-bottomed boat trip across to the other 2 Gili Islands nearby for an extended snorkelling safari too.
In the evenings Joe and I played football with the local kids which was great fun. Our regular arrival with the football at dusk was a rallying call to action for all the local tearaways!
It was wrench to leave but we eventually dragged ourselves away from this island paradise and took the ferry to mainland Lombok where we headed up on to the slopes of the towering Mount Rinjani.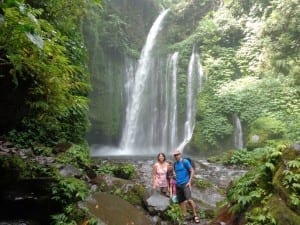 Here we hiked up to a couple of superb waterfalls, enjoying a dip in the pool beneath one of these gushing cascades after diving from a scalloped shelf behind the thundering curtain of water. Invigorating barely describes it!
We also visited a Sasak village to get a glimpse of traditional life. It was a fascinating insight into pre-Islamic ways but it's possible that Joe and Rosa were more excited about the motorbike journey there and back!
We now started to head back to Bali but we couldn't resist another short stay in the Gili Islands and had 3 further days there, this time on the even sleepier Gili Meno.   From here it was another 'fast boat' transfer across to Amed onBali's east coast and a road journey via the beautiful water-palace of Tirta Gangga up into the volcanic heartland of the island.  We stayed on the shore of Gurung Batur, an active volcano that rises in the midst of a great caldera which we viewed en route from Kintamani.  This village affords a stunning vista of huge lava flows, some as recent as 1974.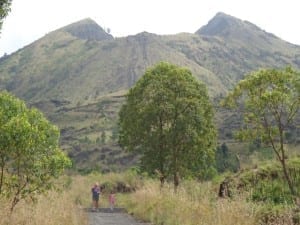 The next morning we hiked for 2 hours up to the crater rim of Batur to witness the steaming vents of its summit and marvel at the panoramic views, including a distant glimpse of our 'old friend' Mt Rinjani back on Lombok some 90 miles away across the sea but easily visible at over 10,000 ft.
We then returned to Ubud for a couple of days.  These were mainly spent shopping, a new concept for me on an overseas trip but with my wife and daughter both in attendance on this occasion there was no alternative!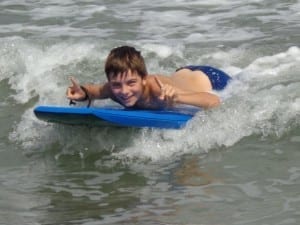 Our final stop was Kuta on the south-west coast where we spent our last day of the trip on the beach surfing the spectacular barrelled waves. We were warned that Kuta is 'not the real Bali' but we were so glad we ignored the advice to steer clear – we all loved getting pummelled by those huge breakers!
Bali & Lombok offer an exceedingly safe and welcoming destination for families.  There are a great variety of activities on offer that can be equally enjoyed by parents and children.  More widely, Indonesia can also offer the possibility of seeing Orang Utans (Sumatra) and Komodo Dragons (Flores) as well as more strenuous hiking than we attempted – Mount Bromo (Java) for example is an outstanding trekking objective.  Speak with Rob or Barb (who has also visited Indonesia) for suggested ideas and sample itineraries.