What a difference a few degrees make… Irene has just returned from Swedish Lapland and with several layers and a very warm hat enjoyed even the lowest temperature of minus 29C!
Our trip started off in Lulea – the gateway to superb winter wonderland adventures, wildlife safaris, woodland snowshoeing and Nordic skiing experiences and of course sublime aurora shows. We first stayed at Sorbyn Lodge, well known for fine dining using local ingredients and magical lakeside walks and husky rides.
After a couple of hours of snowshoeing  through pristine and quiet forests we enjoyed a lakeside barbecue of reindeer and vegetable stir fry.
The next stay was at the unusual and quirky Britta's Guest house which is the 'reception' to the famous Treehotel. Set high in a beautiful pine forest  6 individually themed  'treehouses' (the mirror cube, the bird's nest, the cabin, the  blue cone, the UFO, the luxurious dragon fly) offer minimalist design and take you 'back to nature' values where your childhood fantasies come true.
This evening the Northern Lights showed a brief dance for us, it was a humbling show amongst millions of brightly shining stars and constellations.
Our next journey took us further north past the Arctic Circle into Kiruna – home to Sweden's highest mountains and the world's largest underground iron ore mine. This area offers adventures around every corner both in winter and summer – though the Sami believe the year has 8 seasons. We spent some time amongst the Sami – feeding reindeer, tasting wonderful soups, enjoying  ginger cookies and very strong coffee whilst listening to stories about the Sami way of life over the centuries.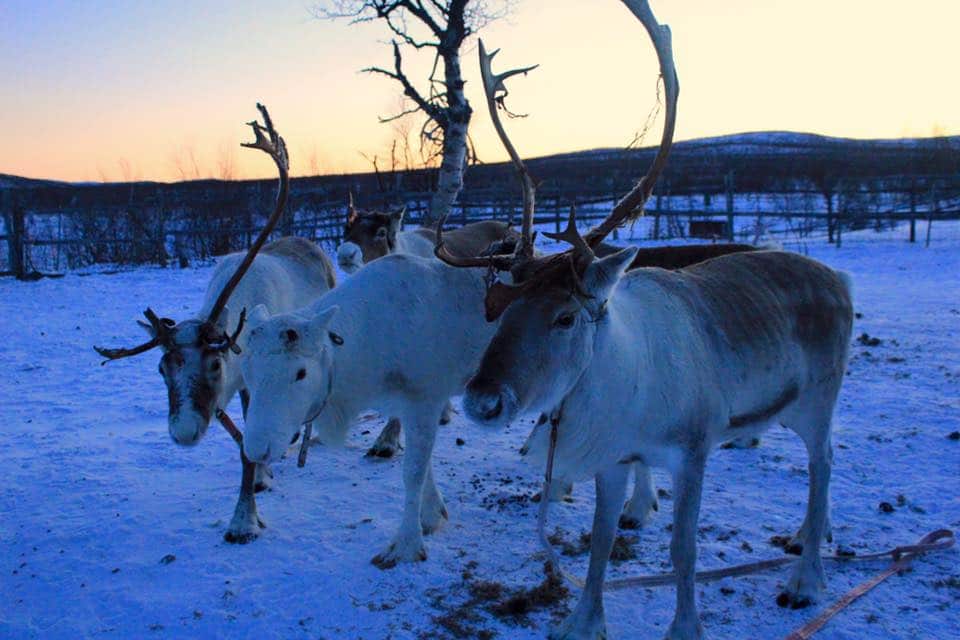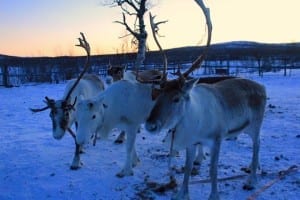 At the famous Ice Hotel we checked out all 'cold rooms', showcasing different artistically designed decorations cut out of ice blocks (always kept at minus 5C) from the nearby frozen river as well as the self catering log cabins.  Whilst tasting  cocktails poured into glass shaped ice cubes at the Ice bar  the Aurora made another appearance, all topped off with a 4 course spectacular traditional Swedish 'ice style' dinner.  You can add in husky or snowmobile safaris, search for moose or try your luck at ice fishing and end the day warming up in one of the many Spas, saunas or whirlpools every lodge and hotel offers. Most rooms and cabins have a sauna cabin to enjoy whenever it takes your fancy.
Our final stay was at Bjorkliden, high up a mountain in Abisko National Park. Being a perfect place to experience the isolation, natural beauty and extensive alpine and subalpine ecosystem it is not just a well loved tourist resort but home to a team of scientists researching life in this stunning far northern destination.
A visit to Swedish Lapland can be a journey far from the ordinary where ancient cultures and novel experiences await you.  If you are keen to follow in my snow-shoes then please get in touch and I'll be delighted to help!  – Irene