Namaste! Suzanne has just returned from one of her favourite countries – Nepal – to see at first hand how the country was doing after the devastating earthquake in April 2015.
The main thing to project to everyone is Nepal is back in business! The trekking routes have been quieter this season but all the trails have been inspected by outside experts and found to be unaffected apart from the Langtang area which was located in the epicentre of the earthquake. I would definitely encourage clients to visit Nepal now.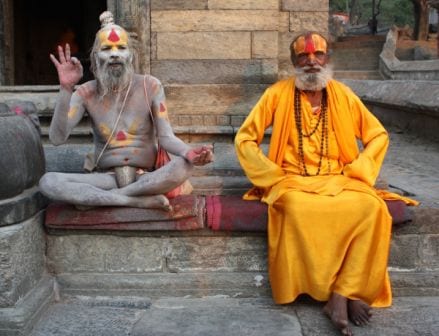 My trip started by flying to Kathmandu via Delhi with Jet Airways. We were lucky enough to be upgraded to business class which was superb as it was a night flight. Very comfy flat beds – so good that I missed all the excellent meals whilst in a deep slumber and before we knew it – we were in the airport collecting our bags and getting our first sight of chaotic Kathmandu.  Intrepid Travel were our kind hosts on this educational tour for travel consultants and they had a fantastic location for their hotel – Kathmandu Guest House – right in the heart of the city's famous Thamel district. The garden was particularly good to relax in after the journey and a welcome serene space away from the hustle and bustle of the streets outside.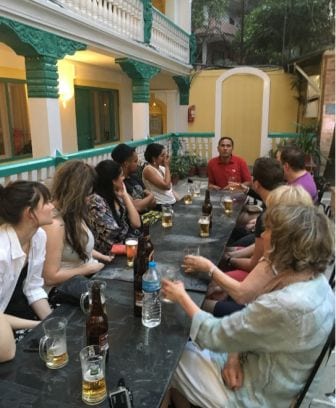 I was enthralled to learn this famous guest house was the starting point for many mountaineers in the past – including the UK's  very own Chris Bonington .  Thamel was as industrious as ever with people trying to sell their wares (50p woollen hats anyone?) and with the same magical bookshops I remember visiting in my youth as well all the cafes and restaurants offering excellent coffee, lassi yoghurt drinks and Tibetan/Chinese dumplings. Oh and great slabs of carrot cake for all those would be hikers! I was in heaven.
The next morning heralded a tour around Kathmandu. The name means City of Wooden Temples – all intricately carved by master craftsmen in their day. Some of the tourist sights are naturally being re-built after the earthquake and some of them will be ready for the next trekking season in the autumn. Other sights, for example many of the damaged monuments in Durbar Square, will be carefully re-constructed brick by brick and may take many more years to re- construct but there is still plenty to see that survived the tremors. I was pleased to find that the main sights still had the same atmosphere especially in Bouddhanath, a revered Buddhist pilgrimage site, where the monks were still turning their prayer wheels and chanting whilst walking clockwise round the biggest stupa in the world with its myriad of fluttering prayer flags.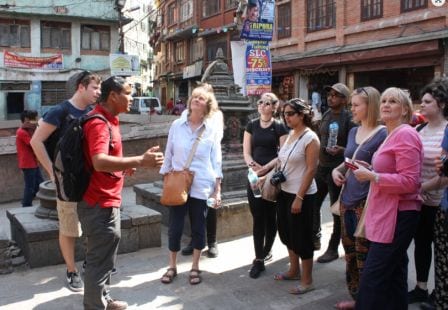 Next we visited a project supported by 'The Intrepid Foundation'. Many tour operators are now flying the flag for responsible tourism and take this very seriously as an important aspect of their credentials. We visited the 'Seven Women's organization where we were privileged to meet some of the women the organization had taken in – starting with 7 women and now expanded to help over 600 deprived women get back some control over their destinies.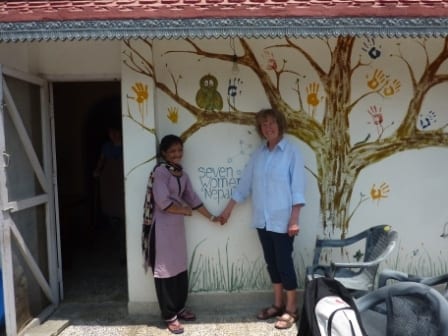 Meeting the women was a special highlight for many of us – to see how they had turned their lives around to create a self sustainable existence. We really enjoyed learning to cook some Nepalese cuisine with them and they could teach us Westerners a thing or two about how joyous it was to cook and eat together.
The next day we had an early start for our flight to Pokhara and we had glorious views of the mighty Himalayas peeking through the clouds. Quite magical. Our guide Satya named every single peak he could see on the plane and told us how high each one was. We then drove on the new road to Milanchowk where we started our short trek to Hyanjakot. The stunning scenery of verdant stepped hillsides and our meetings with friendly locals will be with us for a long time to come.  One of the locals we met claimed to be over 90 years old but he was so fit from all that daily hill-walking albeit with a good stout stick.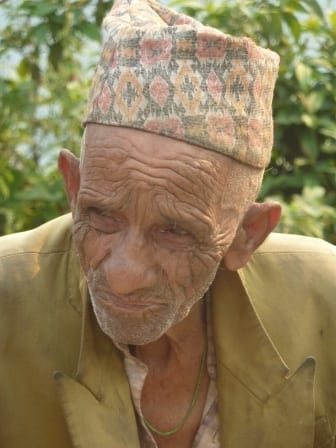 The traditional villages we passed through were in the Annapurna foothills and on a good day you have panoramic views of Machapuchare – the Fish Tail Mountain – from certain hilltops. This particular mountain is sacred to the locals and no one is allowed to climb this peak.  We lodged in a very ethnic homestay and the locals put on a splendid Nepalese evening of music and dance. Just what the doctor ordered after all that walking and most of us still all had the energy to join in with the festivities after a couple of cool beers.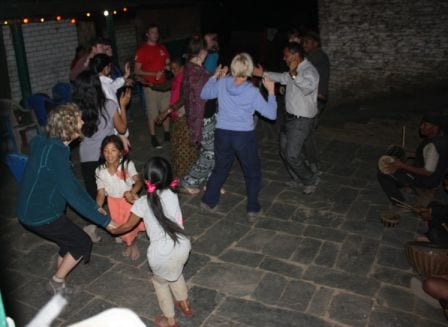 In the morning we sampled a traditional Nepalese breakfast and said our farewells to the family who hosted us before heading down the hillside through forested tracks on a different path to our bus. We then spent the rest of the day in Pokhara which is in a glorious location with the mountains surrounding the huge Phewa lake.  I was determined to make the most of my time here and encouraged my buddies to sample the fantastic work of the 'Seeing Hands' team whom are all blind but have been trained by a UK charity to practice amazing massage on our weary limbs.  The International Mountain Museum was well worth a visit – to see the achievements of so many countries' ascents on all seven of the highest mountains on earth. Then back to our accommodation in Pokhara to witness a rather splendid Hindu wedding which was still being played out the next day at breakfast after our sunrise trip to Sarangkot for a view over the Himalayas.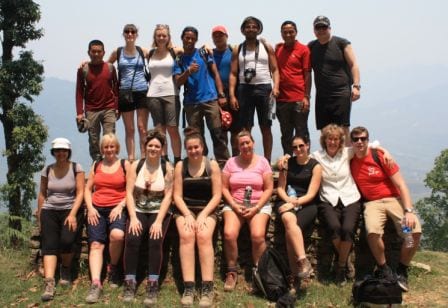 On the way back from Sarangkot we visited Bindabashini Temple – one of the holiest temples of Nepal – and witnessed the locals queueing up to offer food, flowers and even livestock to their deities. We then went for a tranquil boat ride on the lake with just the sound of our guide's paddle in the water.  Finally we took our leave and travelled south alongside the Dudh Kosi river to Chitwan National Park in the lowlands of Nepal. Here we had a lovely comfortable chalet in the grounds of Hotel Royal Park.
Another early start meant we got to see the best of the wildlife on our jeep safari. The guides were superb in their ability to spot kingfishers, hooded vultures, eagles, elephants, water buffalo, spotted deer, grey langur monkeys, wild boar and a sloth bear amongst others.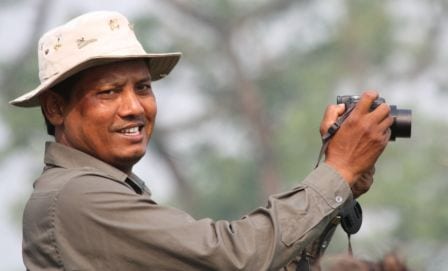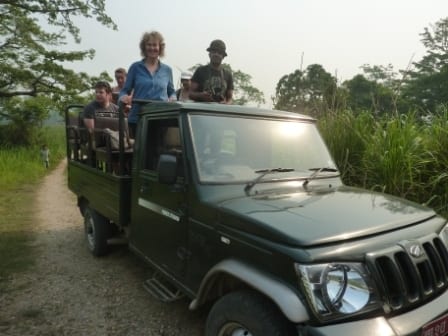 The park also boasts leopards and the elusive Royal Bengal Tigers.  We did see tracks that a tiger had made an hour before we got there.  The excitement of numerous endangered one horn rhinos was so great that I got to get a selfie with my face and his cheeks from the safety of the vehicle!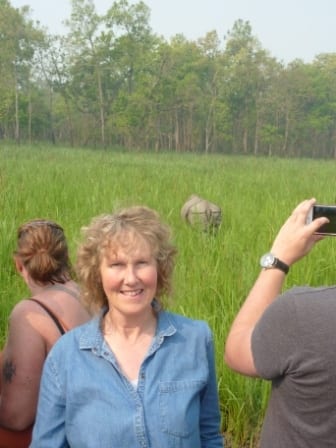 After lunch we spent a couple of hours  floating  down the Rapti river in a dugout wooden canoe to see and spot the myriad birdlife, huge mugger crocodiles and unique long nosed gharial crocodiles which only eat fish (apparently). One of the mugger crocs just lay like a statue on the bank with its jaw open (to keep itself cool) as we passed quietly by trying not to make a sound.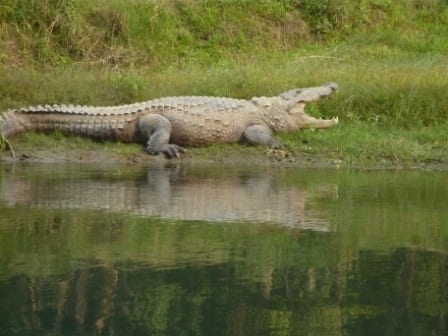 We later landed our canoes and trekked across the plains to visit a traditional village on the edge of the park.  We rounded off our Chitwan experience with a night of Nepali songs and dancing with a rather good impersonation of a peacock thrown in.
Another thrilling journey followed the next morning as we drove along switchback roads and deep gorges. We had the Trisuli River beside us for nearly the whole way to Kathmandu – a great choice for some river rafting but that would have to wait for another time. We took in the last sights and sounds of the city and then went for a sumptuous banquet at a traditional Nepalese restaurant .  We were each very sad to be leaving this amazing country.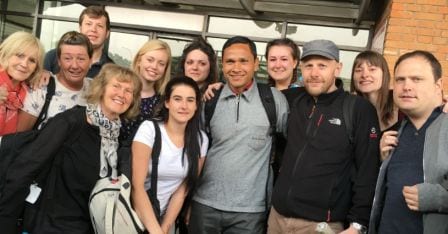 Our incredible guide Satya who led our Nepal trip with Intrepid wrote to us afterwards and said how we had helped some of the Nepali people who had been directly affected by the earthquake, losing their families in some cases and their homes in others.
It was great to feel we had made a small difference to their livelihoods.  As they rely so much on tourism for their income the best thing we can do is encourage visitors back to this beautiful country. Small group tourism is an excellent way to raise the standard of living as many more Nepali people are benefited by this type of 'grass-roots' travel where local guides are employed and visitors stay in locally-owned guest-houses .  In this way we can help Nepali people to get back on their feet and do the same as they have always done – be an incredibly resilient race who love their country and want to give visitors the best possible welcome with their huge smiles and generous hospitality.
The warmth of this country is so infectious and it is indeed one of my favourites.  I will be back!