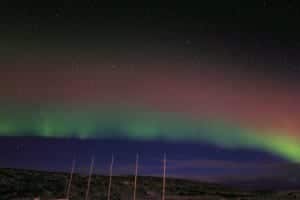 In December I was very lucky to be invited to join an Explore short tour to Iceland. 2012-14 happens to be peak season known as "Solar Maximum" and plentiful and spectacular displays of the famous Northern Lights – on most traveler's 'bucket list – are predicted. Accompanied by expert astronomer Andrew Green and a local guide we travelled in search of the spectacular Lights during nighttime but also explored the famous 'Golden Circle' including Thingvellir National Park and Strokkur Geyser. We also visited lava fields and beautiful Reykjavik , and had the chance to unwind in the geothermal waters of the Blue Lagoon. We stayed in hand-picked locations ideal for Northern Lights viewing and the small and family run hotel in the National Park was, for me personally, a real gem – after all the activities in the cold it was great to get back to a warm and welcoming lounge, wonderful 3 course meal and a comfortable and very warm room.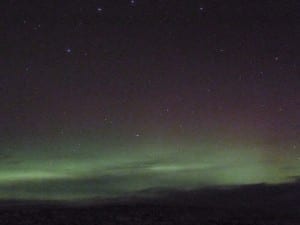 Night 2 and Andy kept checking the skies while we relaxed in the lounge – just before our eyes were too tired to take anymore in he reminded us to wrap up and step away from the window lights – and there they were – green clouds slowly moving and twisting – only once we all had arranged our cameras to the perfect exposure and shutter speed as advised by Andy did we see the 'real' scale of the 'dancing lady' on our screens.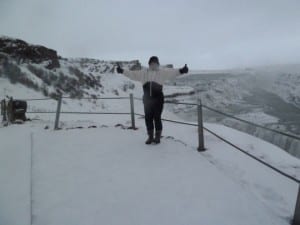 During the days we braved the icy winds around umpteen breathtaking part frozen waterfalls, visited remote villages and geothermal fields. But the most spectacular site was Pingvellir, Iceland's most important historical site and a place of unique beauty. Here the Vikings established the world's first democratic parliament, the Alþing, in AD 930. As with many saga sites, there aren't many Viking remains to be seen, but the park has a superb natural setting, inside an immense, fissure-ridden rift valley caused by the separating North American and Eurasian tectonic plates.
The lights did hide during other patient night watches but a final high light was visiting Reykjavik, the northernmost capital city in the world, out of reach of convention. Being so far off the European map we found it friendly and cultured, ground-breaking in many areas from music to art but also well-grounded in history and folklore. Within all the modernity lies an overall strong believe in fables and unworldly creatures, if you counted up all the elves and huldufólk (hidden people) that are said to exist in the Reykjavík suburbs the city would have the population of any other European city.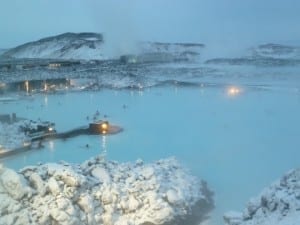 As noted in the Lonely Planet Guide for Iceland – it is almost too extraordinary to be real.