Rob was honoured to be awarded AITO's 'Shining Star Award' at the annual AITO Specialist Agents Conference in January.  He won a holiday to Greece (courtesy of award sponsors Sunvil / GIC) and he has just returned from Paxos where he and his family stayed for a week in a lovely villa set above the quiet harbour town of Gaios.
Rob writes: 'It was a delightful and action-packed 7 days and we had the most marvellous time!   Villa Heleni was beautifully located in a reclaimed traditional olive grove.  Joe (10) and Rosa (8) loved the pool of course and also swinging in the very ample hammock.
We found the relaxed atmosphere of Gaios very congenial and we played Scrabble in the evenings next to the Greek backgammon players in the waterfront cafes.   Like most visitors to Paxos we took the obligatory boat trip around the island to see the spectacular limestone cliffs of the west coast and the shimmering turquoise waters and white sandy beaches of Antipaxos.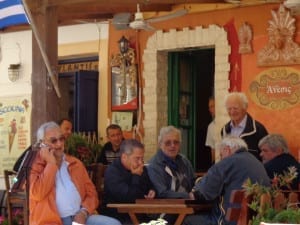 We also did our best to get stuck down remote tracks in our hire car but thankfully managed to extricate ourselves each time. The weather was great – strong sunshine on 6 out of the 7 days with a gentle cooling breeze!   All the Sunvil/GIC  team were so efficient and friendly and really made us feel welcome – thanks to all!'