'Just back from a 6 day whirlwind 'agents educational' tour of Egypt with 'On the Go Tours' and I have to say I've been blown away by it all!  Quite literally, since the biggest highlight was a marvellous hot-air balloon ride over the Valley of the Kings!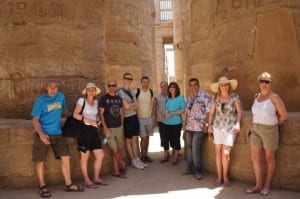 We started in Cairo where we spent our arrival night enjoying a fine meal in a wonderful restaurant with the mighty Pyramids of Giza lit up just a few hundred metres away.  The following day we visited the Pyramids and descended steeply down inside to the burial chamber of the third pyramid which was an eerie experience!  The many facts and figures about these remarkable structures really amazed us all and these we feverishly discussed long into the small hours (as we hurtled south on the overnight sleeper train to Luxor).
After a hearty breakfast we set out to explore the Valley of the Kings and visited our ration of 3 of the 62 tombs, including that of Tutankhamen.  The boy-king was in residence – his mummified body now wrapped in a simple cotton covering with his head and feet visible: remarkable to be able to see him at such close quarters.  The other tombs were astounding too for their ingenuity and superbly preserved hieroglyphics.
The following morning was a 3.45am start as we ferried across the Nile to ascend in a hot air balloon and fly along the banks of the river and above the Temple of Hadshepsuit.  In between hot blasts on the burners we made silent progress across this ancient landscape with ruined statues and fallen pillars below us, with locals riding donkeys between the small villages as the sun rose deep orange from the other side of the Nile. One of life's unforgettable moments!
After a visit to Karnak – the best preserved of Luxor's many temple ruins – we returned to Cairo on the next overnight train and spent a full morning at the Egyptian Museum where our fascination for the achievements of the ancient world went up another notch as we learned more about the intricate science of mummification and were left agog at the riches on display.  The highlight of course is the Tutankhamen gold room where the iconic gold death mask is mounted at eye level to stunning effect.  We heard how during the Revolution in January 2011, Egypt's archaeologists gathered to make a human chain around the Musuem, which is within a few hundred yards of Tahrir Square, to prevent anyone from making a raid on it's treasures of inestimable importance.   Adjacent to the Museum is the burnt out modern tower block building that once housed the Mubarak government offices, and this forms a strange juxtaposition of Old and Modern Egypt!
Our trip was completed with a felucca ride on the Nile in downtown Cairo followed by a meal at a waterside restaurant with great views across to the city skyline.  A tremendous trip – it has inspired me to return again in the future and head further south from Luxor to Aswan to see Lake Nasser and Abu Simbel.'