In September 2013 Suzanne travelled to the magnificent Mont Blanc mountain range – and trekked the 'Tour de Mont Blanc' with the adventure specialist – Explore Worldwide. 'This trek is recognized as one of the world's classic walks through France, Switzerland and Italy and I had been itching to do this for years. Throughout its length the route provides wonderful trekking through spectacular Alpine landscapes. Our circuit took 10 days in total which included 2 rest days.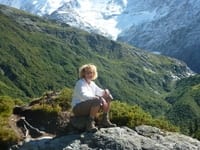 I opted for the 'soft' option of staying in hotels in the valleys en route with just a couple of nights in the mountain huts. On reflection I would have been equally happy to stay in the huts all the way round as most huts were set in glorious locations – albeit you got very friendly with other trekkers in the same dormitory or room!
There were many highlights – but stopping at the various huts in the morning and afternoon, and sampling a delicious strong coffee or a steaming bowl of hot chocolate followed by bilberry torte seemed to lift our spirits enough to get up the next vertical incline! We had daily picnics on a number of the high passes overlooking the mountain range – with French bread, a variety of cheeses and meats and sumptuous juicy peaches. Heaven!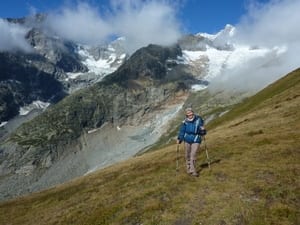 The high passes meant we had a different view of the massif every day depending on which country you were in. One of our memorable meals was at the Refuge de la Nova in Les Chapieux, France who served us a meal of pig cheeks that had been slow- roasted in the oven – the meat was so tender … delicious!  The owner was particularly welcoming in this hut – in fact I was really surprised at the amazing hospitality we received in each location – no matter which country you visited – all the mountain people seemed to be friendly and accommodating.
Glorious sunshine accompanied us for most of the time – but we did have the occasional dose of 'mountain weather' to contend with. Our fitness improved daily – although I have to admit to preparing a little at home – so I could enjoy my trip a little better. En route we saw eagles, marmots, chamoix and many alpine flowers which surprised me in September.
I really enjoyed my day off halfway round the trekking journey in Courmayer where we decided to rest our limbs at the popular hot spring spa at Pre St Didier. Whilst we were being pummelled by the water jets relieving our aching limbs the views of the mountain peaks on the Italian side of the range were just stunning from the outdoor pools and saunas. I could easily have stayed a couple more days to recuperate in that place!
The company of my fellow trekkers was great – just a small group of like-minded people enjoying each day with a new location most nights – all with the same goal of a daily journey in a continuous circuit of the Mont Blanc range. This was a truly inspirational trip and although 'close to home' than other treks i've done it had some of the finest views I have encountered and compared favourably with my Nepalese treks.
So what next? I am indeed going back for more – with my husband this time to stay in some of those stunning hut locations for our wedding anniversary next year. That is the sign – it must have been a good trip!