Forthcoming talks and events...
ROYAL GEOGRAPHICAL SOCIETY (WITH IBG) LECTURE SERIES
HUGH THOMSON
'ONE MAN AND A MULE'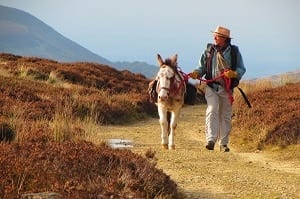 For centuries mules were used to transport goods across Britain. Strong, sturdy and able to carry a great deal of weight, they made ideal walking companions – as long as you didn't ask them to do anything they didn't want to do!
Now Wainwright-Prize winner Hugh Thomson revives that ancient tradition, using his experience of hiking with pack mules across the Andes to have what he calls 'a South American adventure in England'.
Thurs 5 July 2018 7.30pm 
Exeter Phoenix: Tickets £12.00 (£10 concessions)
Box Office: 01392 667080
Picture credit:  Hugh Thomson